More Roadwork To Possibly Wreak Traffic Havoc This Week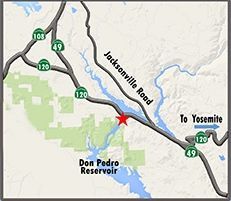 Roberts Bridge Project Route Map Detail

View Photos
Sonora, CA – As if the Mother Lode roads were not already snarled up enough with roadwork, Caltrans has added more spots to potentially avoid this week.
Fifteen-minute traffic stack ups are in the wings Wednesday through Friday along Highway 120 between La Grange Road and Alkali Creek as crews grind and pave in the area from 8 a.m. until 3 p.m. Caltrans gave late notice that today and Tuesday similar work is also being done during the same times between Mountain Bluff Road and the Chinese Camp railroad crossing, where ten-minute delays should be anticipated.
Over in Calaveras County along Highway 4 near Arnold, ten-minute waits are now expected Tuesday through Friday as utility work is addressed between Upper Moran Road and the Big Trees State Park entrance from 8 a.m. until 4 p.m. Brief interruptions are also possible on Highway 26 in Valley Springs every weekday for utility work between Nove Way and Highway 12. Wednesday, along Highway 49 in Angels Camp, marker replacements are scheduled under a moving closure between Gunclub Road and Highway 4 from 10 a.m. until 3 p.m., possibly causing momentary delays.
These are in addition to all the cone zones we reported on Sunday. For the list of those hot spots, click here.
Remember, too, there is a complete bridge closure on Highway 120 that will require some major workarounds by motorists. As of last evening the James E. Roberts Memorial Bridge near Don Pedro will be unavailable for travel Sunday through Thursday evenings and overnights from 5 p.m. until 7 o'clock the following mornings. This work schedule is currently slated to continue through next February while Caltrans crews are replacing the bridge deck. During these times Jacksonville Road is a likely alternate route. (See image in left image box for route map.)