Governor Extends Carbon Reduction Goals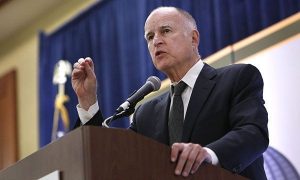 Governor Jerry Brown

View Photos
Sacramento, CA — Governor Jerry Brown has signed a package of bills that aims to reduce California's greenhouse gas emissions by at least 40% below 1990 levels by 2030.
It is an extension of the AB 32 legislation that was signed by Governor Arnold Schwarzenegger in 2006 that calls for reducing carbon to 1990 levels by the year 2020. One of the notable things the legislation spawned was the creation of the state's contentious cap and trade program. High polluting companies are able to purchase carbon credits to offset emissions.
In signing the new legislation, today, the Governor says, "Climate change is real, and knowing that, California is taking action."
The legislation was passed along partly lines with a majority of Democrats in favor and Republicans opposed. Republicans have argued that it will increase energy prices.