Plentiful Road Crews Generating More Traffic Pileups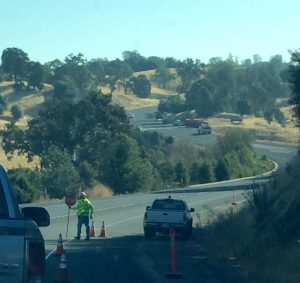 Hwy 4 delays south of Hwy 49, Angels Camp due to paving, Sept. 7, 2016

View Photos
Sonora, CA – It seems nearly impossible to avoid a Caltrans work zone wreaking notable delays this week.
Wednesday morning, delays of at least ten minutes were evident along Highway 4 about a mile and a half south of Highway 49 for pavement work. Along with other recent Highway 4 paving closer to Copperopolis, residents have been gritting their teeth while idling in wait for one-way traffic control flaggers and pilot vehicles to revert passage through go-aheads back in their direction. (See left image box slideshow for a few roadworks in progress caught by Clarke Broadcasting cameras.)
Apparently, post-summer vacation time until around the time the wetter weather generally hits in November is prime time for highway repairs and seasonal primps, such as paving, weather-guard coating and drainage clearing. For this week's earlier reported list of hot spots, click here.
Too, another cone zone along Highway 49 expected to generate ten-minute traffic hiccups was just added to Caltrans work roster. Officials now say that daily through Friday between San Antonio Creek and Carol Kennedy Drive, motorists may also anticipate one-way traffic controls as drainage work is being addressed there from 8 a.m. until 3:30 p.m.