Fourth Of July Holiday Weekend Events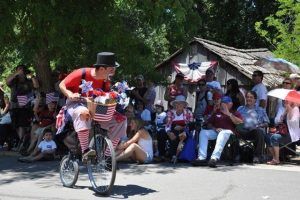 Glorious Fourth of July Celebration in Columbia

View Photos
The month of July begins tomorrow and the holiday weekend extends to Monday July 4th a federal holiday commemorating the adoption of the Declaration of Independence 240 years ago.
Friday, July first, events include the weekly Angels Camp Certified Famers Market, First Friday Art Walk, Wine & Dine on Main Street in Jamestown, a Community Movie Night and Potluck at The Refuge in Jamestown, the free Family Outdoor Movie Night at Christian Heights Athletic Field, and Twain Harte Movies in the Pines at Eproson Park. Railtown 1897 State Historic Park first officially became a State Park 33 years ago on July 4, 1983, details on this weekend's train schedules are here.
The Greater Arnold Business Association will host the 35th Annual Arnold Independence Day Parade this Saturday, July 2nd, starting at 10 a.m. on Highway 4 in Arnold. The KVML interview with Parade Chairman Linda Baker is here. The day begins with the Lions Club serving a pancake breakfast, then the all ages 'Firecracker Mile' foot race, and then the parade- details are here. An overview about the 44th Annual Sierra Nevada Arts & Crafts Festival and contact details are in their event listing here.
The Ironstone Vineyards 4th of July Celebration begins at 2pm on Saturday July 2nd and ends with fireworks after the sun sets. Ticket details are here. Pine Mountain Lake's Independence Day Celebration, fireworks at the Marina and their shuttle is available for residents and their guests on Saturday. There are no fireworks at Don Pedro this year.
On Sunday check out Copperopolis and its Red, White and Blues Festival at The Market 10am-3pm.
Monday, Columbia State Park and the Columbia Chamber of Commerce are hosting the town's annual Glorious 4 of July Celebration. Some of the activities visitors can participate in are old fashioned games such as a Needle in the Haystack search at 11:30AM and Egg Relay at 2:30PM for younger children. Games for older children include the Nail Pounding contest at 1:15 p.m. and the Bucket Brigade and Watermelon Eating contests, both at 1:00PM. At 2PM the popular Greased Pole Climb features two poles, one for those twelve and younger and one for teenagers, are set, greased and topped with envelopes containing cash prizes. Last year the taller pole went unclimbed. Mike Keene, the July 4 event coordinator, dismissed talk of blaming the relative inactivity of today's youth saying "It has always been hard and there have been years when neither pole has been climbed. I can imagine old-timers in the 1800's shaking their heads at the youth of yesteryear."
The Egg Toss begins at 3PM. It is a team game that matches pairs of parents and children who toss and catch raw eggs and seek to beat the record of 105 feet set more than 18 years ago. Other activities in Columbia on Monday include the all ages Cake Walk and 5 Way Tug of War. All games are free, although donations are welcomed, Columbia parade details are here.
Twain Harte will once again celebrate 4th of July with a parade where parade entries of even a bicycle with some playing cards attached to make noise is welcome.  Registration begins at 10:00 AM, the parade starts at 11:00 AM and there are more family fun things to do on Cedar Street at the free event, the event listing is here.
Over at Turner park in San Andreas is the Calaveras Community Band July 4th Concert & BBQ. Detailed information is here.
Next Week: Click on a date for more events coming up

S
M
T
W
T
F
S
3
4
5
6
7
8
9