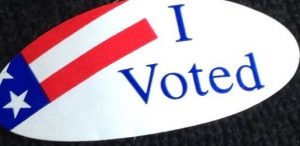 I voted sticker

View Photos
San Francisco, CA — In just under two months, Californians will cast their votes in the June 7 Presidential Primary and a new Field Poll released this week shows the races tightening.
Democratic candidate, former Secretary of State Hillary Clinton's once commanding lead over Vermont Senator Bernie Sanders has declined to just six points.  However, she remains the front-runner with 47% to 41% favoring Sanders.  The poll finds a huge generational difference with a greater than four-to-one margin among voters age 18-29 supporting Sanders, in contrast to Clinton who holds a nearly three to one margin among voters age 65 or older.
Additionally, there is a significant "gender gap" preference.  Clinton holds a commanding seventeen-point lead among women, with Sanders preferred by eight points among men.
Big differences can also be found between registered Democrats and the state's non-partisan voters.  The latter are also eligible to vote in California's Democratic presidential primary.  Registered Democrats favor Clinton by eleven points, while among nonpartisans,
Sanders holds a ten-point advantage.
On the Republican side, Donald Trump leads Texas Senator Ted Cruz by seven points among likely voters in this state's primary.  Trump has the support of 39% of likely GOP California voters, while 32% support Cruz and Ohio Governor John Kasich trails in third at 18%.  Additionally, 11% are undecided or intend to vote for someone else.
The poll found major regions of the state with widely varying support for Trump and Cruz.  Poll Official cite that is significant since 159 of California's 172 delegates to the Republican National Convention will be determined by who wins the most votes within each of the state's 53 congressional districts.  However, the poll could not estimate which of the two was leading within each congressional district.  It did show Trump and Cruz tied, with two regions each, which could dilute any delegate advantages gained by the winner.
Trumps political outsider status is giving him the edge with those who voted for former California Governor Arnold Schwarzenegger in the 2003 with a majority favoring him to Cruz.
This year's contentiousness race shows a deep division within the state's GOP rank-and-file as nearly four in ten republicans or 38 % say they would be dissatisfied or upset were Trump to become their party's nominee, while nearly 34% say the same thing about Cruz.
With  regards to a contested convention if Trump fails to get the needed delegates to be the GOP nominee, 52% want their party to give the nomination to Trump, while 48% would support nominating someone else.
Voters gave Clinton a 28-point advantage against Trump, and 23-points over Cruz in the general election.  Field Poll officials note that in both races, voter turnout will play a critical role in the primary.