Update: Another GOP Candidate Pulls Name From Ballot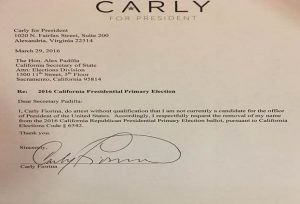 Carly Fiorina's letter withdrawing from the state's primary ballot

View Photos
Update March 31 at 2 p.m.: Carly Fiorina is the latest former GOP presidential candidate to have her named taken off the state's primary ballot. Thursday, Fiorina filed an affidavit with the California Secretary of State's Office requesting her name be removed from the June 7, 2016 Presidential Primary Election ballot. She joins three other former candidates who had their names withdrawn last week; Florida Senator Marco Rubio; former Florida Governor Jeb Bush; and New Jersey Governor Chris Christie. April 1 is the deadline for submitting to have a name pulled from voters' consideration.
Update at 6 p.m.: Following Marco Rubio's lead, Jeb Bush and Chris Christie's names will not appear on the Republican Party's Presidential Primary ballot in California.
Both the Governor's filed affidavits with California's Secretary of State's office Tuesday  requesting to be removed from California's June 7, 2016 Presidential Primary Election ballot. The state's deadline to have a name withdrawn from a ballot is April 1, at 5 p.m. Note the story below detailing Rubio's exit from the race, which he filed on March 25, according to the Secretary of State's office.
Original post at 8:56 a.m.: Sacramento, CA — Despite having already dropped out the Presidential race, Marco Rubio still finished a strong third in the Arizona and Idaho primaries. He wants to make sure that doesn't happen in California.
Notably, in Arizona Rubio secured 18% support, taking away votes from other candidates still in the race. Now that the race is tightening, Rubio has filed a request to California Secretary of State Alex Padilla asking that his name be removed from June primary ballot. In order for removal, candidates must file the request by 5pm on April 1st. The remaining Republican front-runners still in the race are Donald Trump, Ted Cruz and John Kasich. The most recent PPIC poll of likely California voters shows Trump with 38% support, Cruz with 19% and Rubio and Kasich both with 12%.
Other former candidates that are still tentatively anticipated to appear on the California primary ballot include Jeb Bush, Ben Carson, Carly Fiorina and Chris Christie.