Update: Flood Watches, Wind Advisories & Storm Warning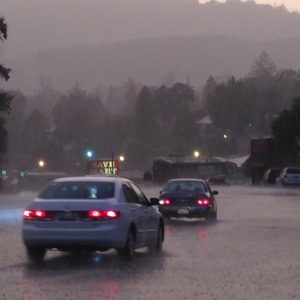 Rain

View Photos
A major pattern change toward much wetter weather is on the way.
A strong system will arrive Saturday and Saturday night, bringing heavy precipitation, gusty winds from forty-five to sixty mph and heavy mountain snow above 5,000 feet. The parade of weather systems will continue into early next week with light to moderate precipitation and possible small hail, lightning and thunderstorms on Sunday and Monday. The wet pattern will continue through next week.
The National Weather Service has issued a Wind Advisory for the Northern San Joaquin Valley for Saturday, from noon until midnight.
A Wind Advisory has also been issued for the Mother Lode from 3 PM Saturday until 4 AM Sunday.
Sustained winds in both locations will range from twenty-five to thirty-five mph. There may be occasional gusts up to forty mph.
This could lead to downed branches or trees, broken power lines, blowing debris and difficult driving conditions.
Additionally, a Flash Flood Watch has been issued for the Butte Fire Burn Area in Calaveras County and the Rim Fire Burn Area in Tuolumne County from Saturday afternoon through late Saturday night.
Rainfall rates may exceed one half inch per hour at times during the storm. The severely burned areas of this past year will be of particular concern. The soils in these areas absorb little to no rainfall leading to enhanced runoff. Those traveling should be alert for possible road problems due to flooding, rock and debris flows.
This could quickly become a dangerous situation. Hunters, residents and persons traveling within the burn areas are advised to remain alert and take action should heavy rain develop.
A Flash Flood Watch has also been issued for the Sierra Nevada below 6,000 feet from Saturday evening through Monday afternoon.
Storm totals of two to four inches of rain are likely with isolated amounts of five inches.
Impacts include possible mudslides, rockslides and debris flows. Flooded or impassable roads are also a possibility. Downed trees, possible power outages and urban and small stream flooding are anticipated.
Finally, a Winter Storm Warning has been issued for the Sierra Nevada from 4 PM Saturday through 6 PM Monday.
Snow levels will start out around 8,000 feet on Saturday evening and then range from 3,500 to 4,500 feet from Saturday night through Monday evening.
Total snow accumulations will range from one to two feet above 6,000 feet. Two to four feet of snow is likely above 8000 feet.
Impacts will include blowing and drifting snow with local whiteout conditions, hazardous winter travel, possible road closures and chain requirements.
A Winter Storm Warning means severe winter weather conditions are expected or occurring. Significant amounts of snow are forecast that will make travel dangerous. Only travel in an emergency. If you must travel, keep an extra flashlight, food and water in your vehicle in case of an emergency.
A Wind Advisory means that winds of greater than twenty-five mph are expected. Winds this strong can make driving difficult, especially for high profile vehicles.
A Flash Flood Watch means that conditions may develop that lead to flash floods, rockslides and/or debris flows. Flash flooding is a very dangerous situation. You should be prepared to take action should flash flood warnings be issued.