Caltrans Plans Plus A Bridge Closure This Week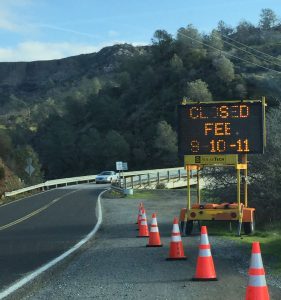 Lake Tulloch Bridge Closure Sign, Feb 9-11, 2016 on Obyrnes Ferry Rd

View Photos
Stockton, CA – Mother Lode motorists have a temporary bridge closure and plenty of Caltrans work to consider before leaving the driveway this week.
Three days of evening-into-early-morning repairs at the Lake Tulloch Bridge on O'Byrnes Ferry Road will cause its temporary but complete closure for 12 hours at a time Tuesday through Thursday, from 6 p.m. until 6 a.m. During this time, as Sierra Conservation Center crews work to replace a water pump at the bridge, it will remain closed to all traffic — even emergency vehicles. However, it will be open from 6 a.m. until 6 p.m.
In Calaveras County, beginning Sunday, tree work scheduled daily through Saturday along Highway 26 between Campo Seco Turnpike and Ridge Road is likely to set motorists back a few minutes from 8 a.m. until 3 p.m.
More 15-minute delays are in the works along Highway 26 between Happy Valley and Lower Dorray roads as Caltrans crews conduct spray operations Monday through Saturday from 8 a.m. until 3 p.m. Plan for similar interruptions on the highway every weekday from the Calaveras/Amador County Line to Defender Grade during slope repair and clearing work, scheduled from 7 a.m. until 5 p.m.
Along Highway 4, Monday through Thursday, maintenance work between Douglas Flat and Main Street will likely trigger ten-minute delays from 9 a.m. until 2 p.m. Tuesday through Friday, shoulder work between Meadow View and Manuel roads may briefly stall motorists as crews work from 7 a.m. until 5 p.m.
In Tuolumne County along Highway 49, tree work each weekday between Highway 120 and the Mariposa/Toulumne County Line will likely set motorists back for ten minutes at a time from 8 a.m. until 4 p.m.
Utility work along Highway 108 scheduled Tuesday through Thursday between Via Estate/Rancho Poquitos and the Mono Way intersection from 10 a.m. until 3 p.m. should not affect traffic but motorists will want to be careful while crews work along the shoulder there.
Brief delays are possible along Highway 120 Monday through Thursday as road striping operations are underway between the Stanislaus/Toulumne County Line and Green Springs Road. Expect a moving closure there from 10 a.m. until 3:30 p.m.