Cruz Leads GOP California Field Poll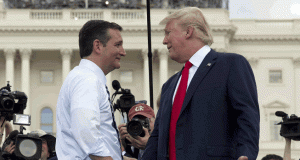 Ted Cruz and Donald Trump

View Photos
A new poll indicates that Ted Cruz is the preferred choice for President among likely Republican voters in California.
The Field Poll released this morning shows Senator Cruz leading with 25%, businessman Donald Trump is second with 23%, Senator Marco Rubio is third at 13%, Dr. Ben Carson at 9%, and Senator Rand Paul with 6%. They are followed by Jeb Bush with 4%, Chris Christie and Carly Fiorina with 3% and John Kasich with 1%. In addition, 13% of California GOP voters say they have not decided on a candidate.
When looking at geographic regions, Cruz and Trump are tied at 22% in the coastal counties, but Cruz leads Trump 29% – 24% in the more inland areas. Among those that identify themselves as "strongly conservative," Cruz leads Trump 33% – 28%.
The field of candidates will likely shrink over the next few months. When asked who is the "second choice" behind their preferred candidate, 22% say Cruz, 14% pick Rubio, 11% for Trump, and 8% for Christie and Fiorina.
Cruz has seen a sharp increase since the last Field Poll was conducted in October. At that time, he only had the support of 6% of California GOP voters. Trump was the leader with 17%, followed by Carson with 15%, Fiorina with 13% and Rubio with 10%.