Holiday Dinners And Events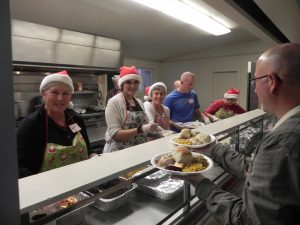 Tuolumne County's Christmas Eve Day Dinner, Line Volunteers

View Photos
There are several holiday community dinner events planned Christmas 2015. They don't shout about their efforts, but wonderful people make them happen year after year with quiet dedication that will once again spread a lot of holiday cheer.
On Thursday the annual free community Christmas Eve Day Dinner at the Mother Lode Fairgrounds doesn't ask for reservations, just find your way there and a turkey or ham dinner with all the trimmings will be provided. The event has been in the calendar and is hosted by ATCAA, toys are also available to children under 16. More information about the event and volunteering is here.
On Friday, Christmas Day, Calvary Chapel will again host two community Christmas dinners one at the Sonora Opera Hall and the other at the Tuolumne Memorial Hall. Both begin at 2pm and will provide a meal and toys for kids and hygiene supplies while they last to whomever visits. The church can be contacted at 533-8820 for more information.
At Jamestown Elementary there will be a Christmas Turkey dinner provided by Jamestown Christian Fellowship. Details are here.
Santa will be at Courthouse Park for photos and to answer questions from little ones on Christmas Eve from Noon until 2:30pm.
A Mountain Ranch Community Christmas Dinner put on by Nancy's Hope for the Butte Fire victims will be served tomorrow, December 23rd. The event is planned in the Mountain Ranch Community Hall, the event listing is here.
Also on the 23rd, join a pizza fundraiser to fund a great scholarship opportunity for Columbia College students. The details are here.
For some exercise this week join the French Flat Frisbee Golf game on December 26th. Rangers will set a 9-hole course filled with clues about the natural and cultural history of New Melones Lake. Meet up at the corner of Shell and Rawhide Roads at 10 a.m. and caravan to French Flat. The weather doesn't usually delay the event but details on who to contact are here.
Next Week: Click on a date for more events coming up

S
M
T
W
T
F
S
27
28
29
30
31
1
2