Big Trees Project Could Receive Water Bond Funding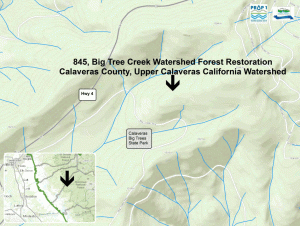 Big Trees Project

View Photos
Sonora, CA — The Sierra Nevada Conservancy, a state agency, will meet in Sonora next week, and the Board will dole out state grant money and tour the Rim Fire area.
The events will start on Wednesday with a tour of the Rim Fire burn scar, as well as the San Francisco Public Utility Commission's Moccasin Powerhouse. The tour will focus on the Rim Fire's impact on the Tuolumne River Watershed and the local community. SNC has been very active in helping with the application process for Tuolumne County to potentially receive grant funding through the National Disaster Resilience Competition.
Then on Thursday, December 10, the board will meet at 8:30am in the Best Western Plus Sonora Oaks Hotel and Conference Center. The board is planning to award funding for projects that restore forest and watershed health under the Proposition 1 (water bond) grant program. Included in the list of five projects that could receive initial funding is the Big Creek Watershed Forest Restoration in Calaveras Big Trees State Park. It includes restoring 235 acres to a heterogeneous stand structure and to enhance the watershed through the removal of overstocked understory and shade-tolerant trees. Specifically, it includes thinning out the ladder and canopy fuels, reduction of 400 stems per acre to 100-2000 stems per acre, and reducing surface woody debris from 35-80 tons per acre to 10-25 tons per acre. Besides improving the watershed, it would also make the area more fire resilient. The proposal calls for SNC to allocate $500,000 in Prop 1 money toward the project and the Calaveras Big Trees State Park would spend $50,560.
The Board will also talk about updates and changes to the SNC Strategic Action Plan and receive an update on the progress of the Sierrs Nevada Watershed Improvement Program. The meeting is open to the public.
Created in 2004 under former Governor Arnold Schwarzenegger, the Sierra Nevada Conservancy is a state agency whose mission is to improve the environmental, economic and social well-being of the Sierra Nevada region.