October Ends, First Weekend Of November Events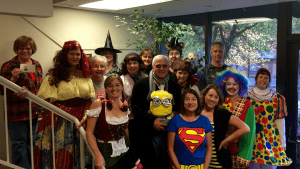 Happy Halloween From Tuolumne County Superintendent Of Schools Office

View Photos
As October ends and November begins here are the big activities planned in the Mother Lode area from our events calendar.
There are several Halloween events, today and tomorrow is the Family Harvest Fest & Pumpkin Chunkin' at Christian Heights Church. The 4-H fundraiser "Realms of Darkness" continues, show times and details on the location are here.
Friday Copperopolis Elementary is having a Fall Festival and Saturday is the Copperopolis Trick or Treat Street at the Town Square.
Saturday is the Columbia Elementary PTA's Annual Halloween Carnival. Also in Columbia, but on Saturday, go Trick or Treating at the State Historic Park. Stay at Columbia till 6pm and see Columbia's Illumination of the Jack-O'-Lanterns.
Light Up the Night is held in Tuolumne Memorial Park on Saturday. The free event is sponsored by local businesses and organizations to provide family-oriented entertainment with food, games for kids of all ages, face painting, and Mountain Motion will provide juggling and a fire show.
The Sierra Waldorf School Halloween Festival features a garden of fairy tales, a hay maze, a tall ship, puppet shows and other surprises with a bonfire and music in the evening.
Be aware of pedestrians near the Opera Hall attending the 155th Annual Firefighters Ball there on Saturday.
On Sunday wake up with a breakfast hosted by American Legion, Smyth-Bolter Post 58
at the Veterans Memorial Hall & Military Museum in Sonora.
At the Natural Bridges parking lot off of Parrotts Ferry Road learn about Creepy Crawlies of Natural Bridges taught by a Bureau of Reclamation Ranger. Details about this program and more are here.
Sunday at Ironstone Vineyards in Murphys the Butte Fire Benefit group is hosting the Phoenix Festival. Several local bands will entertain everyone, food and other vendors will be available. The event seeks to raise money for the Calaveras County Community Foundation, details about the fund are here.
With November comes Thanksgiving and Christmas and Sonora Regional Medical Center is hosting Coping with the Holidays on sunday. Twain Harte Bible Church is also hosting their Grief Share fall session on Sunday.
Next Week click on a date for more events coming up

S
M
T
W
T
F
S
1
2
3
4
5
6
7