Olsen Pushing For Action On Transportation Solutions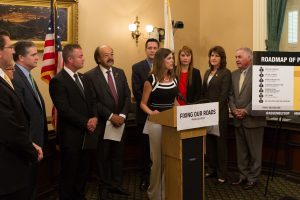 Kristin Olsen Leads Press Conference On Transportation

View Photos
Sacramento, CA — California lawmakers are nearly 80 days into a special session on transportation, and there has been little action on proposed changes to help the state's crumbling roads.
The Governor's Office estimates that there is a $59-billion backlog in deferred maintenance. One proposal introduced was SB 16, authored by Democratic Senator Jim Beall. It calls for increasing the gas tax by 10-cents, raising the vehicle registration fee by $35, and increasing the vehicle licensing fee incrementally over the next five years. Beall estimates his legislation would generate over $3-billion annually.
Democratic Assembly Speaker Toni Atkins has proposed a competing plan that would generate around $2-billion annually. An estimated $800-million would come from a "Road User Charge" placed on motorists. Additionally, $1-billion would be returned in truck weight fees to transportation, rather than using the money to repay general obligation debt.
Republicans in the Assembly, led by former Mother Lode lawmaker Kristin Olsen, have proposed  a 9-point plan that would generate $6.6 billion annually. Key points include calling for CEQA exemptions on transportation projects, trying to eliminate redundancies at Caltrans, using $1-billion from the Cap and Trade program for road projects, and committing $1-billion from the general fund toward road projects.
Olsen and other Republicans held a press conference in Sacramento this week calling for movement on the 9-point plan. She said, "We're here to say it is time for action. We want the Democrats to pass our proposals, get Californians out of traffic gridlock, and strengthen our economy by fixing our roads."
She also criticized the Democratic proposals by indicating that they are not realistic. "It is time for the Dems to present a plan, a real and credible plan."
It was noted by the Assembly Republicans that the 9-point plan they introduced has received the endorsement of former California Governor Arnold Schwarzenegger.
Governor Jerry Brown has not publicly given indication as to what type of transportation plan he would like to see approved and sent to his desk for a signature.