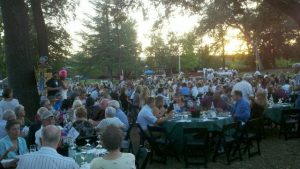 Meals On Wheels Fundraiser

View Photos
Several outdoor events will be held this weekend in temperatures that are expected to be in the 90's.
This Saturday and Sunday, the Gold and Outdoor Festival will take place at the Mother Lode Fairgrounds in Sonora. The event is sponsored by the Gold Prospectors Association of America and will feature metal detecting hunts for all ages with buried treasure up for grabs and detecting education and training. Manufactures and Dealers will be on hand conducting equipment and product demonstrations. Details are in the event calendar here. The earlier news story "Learn about Gold and More" features a KVML 1450AM Newsmaker interview with Robert Guardiola, President of Delta Gold Diggers.
In Honor of Bryce Sanguinetti The Sonora Jr Cats will be donating all the proceeds from the gate fee this Sunday August 23rd to The Sanguinetti Memorial fund. The elementary school age football players have arranged to reserve the Sonora High School Football field for this special event. The Junior Novice will play at 10:30am, the Novice will play at 12:00pm, the JV at 2:00pm and the Varsity Jr. Cats will play at 4:00pm.
The Twain Harte Horsemen Top Hand Poker Ride is also this Saturday at Leland Meadows Snow Park in Strawberry. The Therapy Dogs International (TDI) will be nearby hosting an Evaluation Test in MiWuk all day.
The Sonora InnovationLab is hosting an Innovation Faire beginning at 10am on Saturday.
Jamestown is holding a Summer Crafts for Kids! event at the Jamestown Community Hall. Later in Jamestown the Meals & Wheels For Meals On Wheels 9th Annual Fundraiser will be held at Railtown Saturday evening from 5:00 pm t0 9:00 pm. The theme is Best California Dreamin' and there will be a costume contest. The event also features live entertainment in the park, historic train rides, live and silent auctions and raffle prizes.
Hoedown for Habitat is this weekend in Murphys Community Park. Proceeds go toward building and repairing homes in partnership with Habitat for Humanity Calaveras.
A double lung transplant fund raiser for Tracy Girard is planned at "The Hub" in Arnold's Cedar Center.