Will El Niño Get To Deliver A Wet Wallop?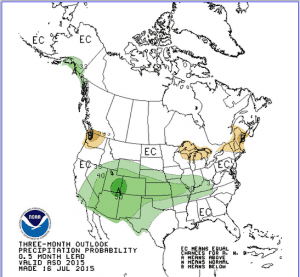 NOAA Latest Precipitation Outlook, July, 2015

View Photos
Sacramento, CA — The latest word from the Climate Prediction Center (CPC) is an El Niño Advisory that indicates conditions are ripe to deliver winter impacts for the record books.
What that means, especially rain-wise, for the Mother Lode and other drought-parched regions in Northern California remains to be seen, due to many variables.
However, according to CPC, in its latest report, issued Thursday, there is now a greater than 90 percent chance that El Niño conditions, now present, will continue to strengthen through the winter across the Northern Hemisphere. Potentially reaching its peak in late fall/early winter, there is now also an 85 percent likelihood that this year's El Niño event will linger into the early spring of 2016.
According to Sacramento-based National Weather Service Warning Coordination Meteorologist Michelle Mead, this year's event will likely contribute to an above-normal hurricane season in both the central and eastern Pacific, which may well influence monsoon storm activities towards California. As wind and storm shifts continue to couple up with warming ocean temperatures, a multi-model average points to an El Niño of SST (Sea surface temperature) 1.5 degrees Celsius or more. Mead notes, in her latest update, that there have been only three recorded El Niño events where SST equaled or exceeded SST 2, and these were the El Nino winters of 1972-73, 1982-83, and 1997-98.
Localized weather data for Sonora, as previously reported, which reference a Northern Sierra eight-station index* over five strong El Niño winters during the drought years of 1958, 1973, 1983, 1992, and 1998, show a range of outcomes, precipitation-wise, indicating that a wet winter in the Mother Lode remains uncertain. For example, in 1992, the area saw only 36 inches (72 percent of average). However, in 1983, it received 88.5 inches (177 percent of average) of relief.
Adding to the uncertainty are colorful discussions now going on among both expert and amateur weather-watchers about how El Niño impacts might be affected by the those of another weather phenomenon called "The Blob," so named as it manifests as a warm water mass off the West Coast. How the "match up" of these two events will play out and affect our winter weather is impossible to call for now, but those rooting for local rain should place bets on El Niño's influence to deliver wet weather over the potential power of "The Blob" to deflect it away.
*Note: The precipitation index covers the mountainous regions that extend from east of Sacramento to above Shasta Dam.