GOP Address: Jobs, Trade And Healthcare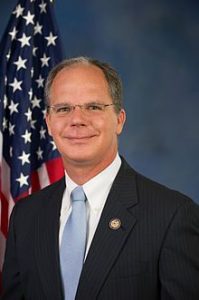 Brett Guthrie

View Photos
Delivering this week's GOP Weekly Address is Congressman Brett Guthrie of Kentucky. His speech was aired as Tuesday's KVML "Newsmaker of the Day". Here are his words:
"Good morning, I'm Brett Guthrie, and I represent the people of Kentucky's Second District.  Our area is home to Fort Knox, Mammoth Cave National Park, Abraham Lincoln's birthplace and the Corvette Museum.
Last November, you elected a new Congress to get things done, and eight months in, we are making progress.
To reduce our debt, we've passed a real 10-year balanced budget plan.
To help our veterans, we've expanded access to private care and mental health resources.
To protect our kids, we've given law enforcement new tools to fight human trafficking.
To grow our economy, we've passed a plan that paves the way for better trade agreements.   This will lead to more markets for farmers and ranchers, and more jobs and higher wages for America's workers.
To strengthen Medicare, we've enacted the first real entitlement reform in nearly two decades. It's going to save taxpayers some $2.9 trillion over the long term.
And to help small businesses, we've reduced ObamaCare mandates that make it harder to hire.
These initiatives are already making a real difference.  And they show what we can achieve when we find common ground.  But, of course, we know that we have a long way to go.
We've also made progress on solutions to accelerate the development of new life-saving cures, improve our education system, and modernize the VA for our veterans.
And we're fully committed to repealing ObamaCare. Here's one illustration of why.
If ObamaCare's next round of regulations take effect on January 1st – mere months from now – small businesses will be forced into larger group insurance markets that have dramatically higher rates.  That means that business owners, employees and their families will be the ones on the hook for higher costs.  I've introduced bipartisan legislation to stop this from happening.
It would ensure that employers with 51-100 employees will be able to keep their current health care plans and avoid more burdensome Obamacare mandates.  This would give relief to American workers across the country.
My father built a small manufacturing business.  I worked alongside him and saw firsthand the challenges that business owners face.  Rising health care costs make it impossible to plan for the future, and that means it's impossible to hire more people.   We know that when Main Street does well, so do American families.
Lastly, in September, Congress will consider one of the most important issues in recent years – the president's Iran deal.  We have made sure that Congress has a say,  and I have cosponsored H. Res. 357, which expresses Congress's disapproval of this agreement.
Like many Americans, I have grave concerns about this deal, and whether it will make our country safer.   Every Republican – and every Democrat – has to determine whether the president's deal meets that essential standard.
We can never be satisfied until we know our children can grow up in a safe and prosperous America.  And we can make this happen if we keep working together to put the people's priorities first."
The "Newsmaker of the Day" is heard every weekday morning on AM 1450 KVML at 6:45, 7:45 and 8″45 AM.