Pushing Climate Change To GOP Presidential Candidates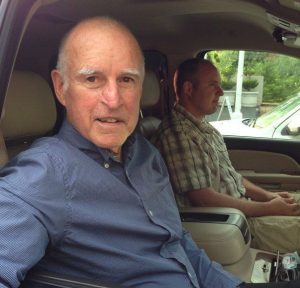 Governor Brown at the Mother Lode Fair: Photo taken by: Tracey Petersen

View Photos
Sacramento, CA — With the Republican presidential debate right around the corner, California's Democratic Governor Jerry Brown is challenging the candidates to give their proposal for fighting climate change.
In a two-page letter, Brown states, "Longer fire seasons, extreme weather and severe droughts aren't on the horizon, they're all here – and here to stay. This is the new normal. The climate is changing," said Governor Brown in his letter to the candidates. "Given the challenge and the stakes, my question for you is simple: What are you going to do about it? What is your plan to deal with the threat of climate change?"
Additionally, Brown argues that protecting the planet should not be a partisan issue, and credited several Republican leaders for joining the fight — noting former Republican Californian Governor Arnold Schwarzenegger signed the greenhouse gas reduction targets into law in 2006.  At the close of the letter, Brown urges, "As the fires continue to burn here in California, don't wait for the smoke to clear. It's time to act."
There will be two debates held in Cleveland and broadcast live on AM 1450 KVML. The first starts at 2 p.m. and will feature candidates that did not make the top ten in national polls. At 6 p.m., live coverage of the top ten begins.
Click here to view Brown's entire letter. Gov. Brown to candidates about Climate Change