Lumber Jubilee And More Weekend Events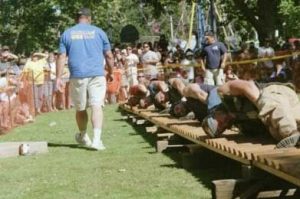 Tuolumne Lumber Jubilee

View Photos
There are several large annual Mother Lode events this weekend. The Lumber Jubilee has already started. More details are in the Newsmaker of the Day story here. Additional details about Lumber Jubilee Carnival tickets are in the event listing. An annual American Soap Box Derby (AASBD) race took place last weekend in Tuolumne the results are here.  Another Soap Box Derby race, the Labor Day Weekend "Gold Rush Shootout" will be held in Tuolumne September 4th-6th the same weekend as the Strawberry Music Festival is planned for near by check out the calendar for more upcoming events.
If weather, and fire/smoke conditions permit, there will be Star Parties hosted and attended by local astronomers each Friday throughout the summer at Bald Mountain Helibase.
Sierra Repertory Theater will host opening night for The Music Man tonight at the Fallon House. The show plays Wed-Sun through August 16 – More information about plays and tickets here.
Murphys-Angels Lions Club 8th Annual Classic Car Show is Saturday at Utica Park.
Saturday a 24 hour event will begin; the Amature Radio Field Day. This event involves Amateur radio operates across the county getting as many radio contacts possible in a 24 hour period. It is open to the public and they will offer Ham license testing at 9AM on Saturday. Details are here.
Also on Saturday is a Crawfish & Shrimp Boil Fundraiser in Twain Harte.
On Sunday join Sol y Breath in a "fun filled day of Yoga" to benefit Nepal Earthquake victims.
This coming Tuesday, June 30th there will be a Community Symposium on Theft and Shoplifting at the Sonora Opera Hall, details are here.
Review events scheduled on July 4th here.