GOP: Trade Reform Bill Unites Republicans And Obama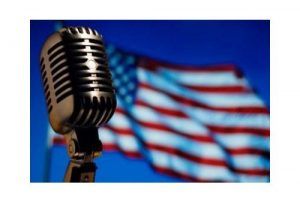 Microphone and US Flag

View Photos
In this week's Republican address, Rep. Pat Tiberi of Ohio makes the case of congressional passage of the Trade Promotion Authority, which he argues will lead to better trade agreements, more jobs, and higher pay for America's workers.
Tiberi was Tuesday's KVML "Newsmaker of the Day".
"Good morning.  I'm Pat Tiberi, and I have the great honor of representing Ohio's 12th Congressional District.
Today marks five months since the new Congress started.  In that time, we've made some real progress on your priorities.
We've enacted the first real entitlement reform in nearly two decades, provided Medicare patients with better, more stable access to their doctors, given law enforcement new tools to combat human trafficking, and approved new mental health resources to prevent veteran suicides.
We have much more to do, especially when it comes to helping middle-class workers find good jobs and better pay.  That's why we're working hard to pass a trade reform bill called TPA.
In an economy where growth is still hard to come by, trade means new markets and new customers.   Did you know that overall we have a trade surplus with the 20 nations we have a trade agreement with?  Or that manufacturing jobs tied to trade pay 16 percent more?  Or consider this: between 2004 and 2013, employment in Ohio declined, but trade-related jobs grew by 19 percent.
Every day, I hear from folks who say it's trade that gets their businesses through the tough times, that allows them to make plans to hire and expand.
The problem is, the way things work right now, President Obama can negotiate trade agreements on his own and in secret.  He doesn't have to keep you or me informed.
It just doesn't make sense.  And it's certainly not fair to American workers.  Why would we allow a system to continue where there's no transparency or accountability for the president?
This is where Trade Promotion Authority comes in.
Concerned about transparency? TPA changes the system to one where Americans have 60 days to read a trade agreement before it can even be signed.
Concerned about a bad deal? TPA makes the president follow dozens of strict objectives in his negotiations so that your priorities come first – not his.   If he doesn't fulfill those obligations, we can vote down the agreement.  It's that simple and straightforward.
Now, many have doubts about trade and how it affects jobs.  I certainly understand that.  My father was a steelworker who lost his job and his pension.  But trade wasn't the culprit, globalization was.  Technology was.  I've toured manufacturing companies across my district where 20 years ago, 10 people worked on the shop floor.  Now there's only one worker making the same products.
The economy is changing.  China knows it, and with us on the sidelines, it is writing the rules of the global economy.  They are working on agreements that exclude the United States, and undercut our labor standards.  The world is engaging and trading like never before, and we must pass TPA so we will not be left behind.
If we pass TPA, we'll be able to make agreements that give us access to one billion new customers.  And our workers will be able to compete for that business on a level playing field, where we know we can outwork anyone.
Now, we've passed TPA in the Senate, and we've got an important vote coming up in the House.
You send us here to find common ground, and TPA unites Republicans and Democrats.  It unites farmers, ranchers, manufacturers, and small business owners.  It even unites Barack Obama and Ted Cruz.
Yes, you're going to hear the usual scare tactics as you have, but Americans are more hopeful and determined than that.  We're not a people who stand still.
Remember, American jobs, American growth, and American leadership are all at stake.  So let's get this one done.
Thank you for listening."
The "Newsmaker of the Day" is heard every weekday morning on AM 1450 KVML at 6:45, 7:45 and 8:45 AM.