GOP: We Agree With Obama, Let's Pass Trade Agreements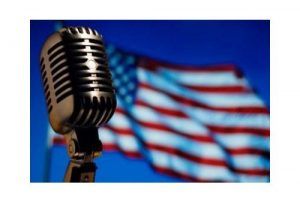 Microphone and US Flag

View Photos
Sen. John McCain, R-Ariz., called for the passage of bipartisan trade legislation currently in front of the Senate in this week's GOP Address.
McCain was Tuesday's KVML "Newsmaker of the Day". Here are his words:
"Hi, I'm John McCain.
When Republicans won majorities in last November's elections, we pledged to get to work for the American people.
We don't often agree with President Obama, on issues where we do share common ground, we'll work for bipartisan solutions that make sense for the country. That's particularly true when it comes to opening foreign markets to American goods and services.
The legislation before Congress, called Trade Promotion Authority – or TPA – will help advance the Trans-Pacific Partnership and the Transatlantic Trade and Investment Partnership, they are two major trade agreements that offer a truly historic opportunity to open markets and level playing fields in some of the world's most dynamic and fastest-growing economies.
Expanding trade is a goal that typically has bipartisan support. There's good reason for that 40 million American jobs are supported by international trade – that's one in every five jobs. Those jobs pay 13 to 18 percent higher than the national average wage.
Americans can't afford to wall itself off from the vast opportunities that lie outside our borders where 95 percent of the world's consumers live.
But that's what many Senate Democrats are suggesting we do in their transparent effort to curry favor with labor bosses. They're choosing to pretend the global economy doesn't exist, and to forfeit the opportunity to remain the world's leading economy far into the future.
The global economy isn't a theory. It's a fact. We can't refuse to compete in it. That's like refusing the weather. We either compete or we lose. We lose jobs and opportunities for American workers today and for our children and grandchildren tomorrow.
Americans have never been afraid of competition. We've welcomed it. If we compete, we win. American innovation, imagination and initiative prevail. These trade agreements open markets that have long been protected from American competition. Why squander a historic opportunity to sell more American products and know-how and create more high-paying American jobs? That's crazy.
And it's dangerous, too. Protectionism doesn't just threaten our ability to grow the economy and create jobs. Failure to move forward on these trade agreements would be a serious blow to American influence in the world.
Under this administration, America's friends and foes alike question whether we have the national will to remain a global leader.
I hear from worried Arizonans every day as they look around and see a world on fire. As Henry Kissinger recently observed, 'The United States has not faced a more diverse and complex array of crises since the end of the Second World War.'
Passing TPA would be powerful proof of our enduring commitment to American leadership in defense of rules and principles that extend security, liberty, and prosperity across the globe.
The 12-nation Trans-Pacific Partnership would cover an area that accounts for about 40 percent of world GDP and one-third of global trade.
More importantly, the agreement will strengthen vitally important security relationships with countries such as Japan, Malaysia, Vietnam and Australia and provide a strategic counterweight to China.
If America fails to lead, China will. If we don't advance the open trading system we've long advocated in Asia, China's protectionist policies will dominate. That's an unacceptable outcome for our economy, our security and for the values that we hold dear.
Seventeen former Secretaries of Defense and top military leaders – including Secretary Bob Gates and General David Petraeus – wrote last week, 'There would be harmful strategic consequences if we fail to secure these agreements. In both Asia-Pacific and the Atlantic, our allies and partners would question our commitments, doubt our resolve, and inevitably look to other partners.'
I don't often quote President Obama. But it was hard to argue with him when he said the other day that Democratic protectionists were just 'making stuff up,' and their arguments didn't 'stand the test of fact and scrutiny.'
'You don't make change through slogans. You don't make change through ignoring realities,' the President said. Republicans agree.
Democrats opposing these agreements are telling us to be afraid. Be afraid to keep our word. Be afraid of our challenges and opportunities. Be afraid to compete fairly. Be afraid to lead.
But we're Americans. We don't build walls to competition. We build bridges to opportunities. We don't hide from history. We make history. We don't fear the world. We lead it.
So, let's get on with it. Let's stop trying to recreate the past, and build a better future. That's what Americans have always done. That's who we are.
Thank you for listening."
The "Newsmaker of the Day" is heard every weekday morning on AM 1450 KVML at 6:45, 7:45 and 8:45 AM.