Raises For California Lawmakers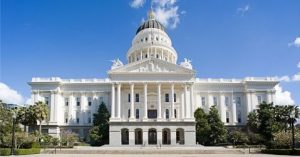 California State Capitol

View Photos
Sacramento, CA — A panel of appointed citizens approved a three percent raise for Gov. Jerry Brown, top statewide elected officials and state lawmakers. According to the Associated Press lawmakers will now make $100,113 per year and remain among the nation's best-compensated legislators. In 2010 the commission cut lawmaker pay 18 percent. Brown will make $179,220 under the commission's vote, well below his predecessor's peak salary of $212,179 in 2008, which Arnold Schwarzenegger waived.
The Citizens Compensation Commission approved the vote unanimously with a 4-0 vote. The panel is now made up of all Brown appointees, one appointed just last Wednesday, May 6th, Matina Kolokotronis. A full panel would consist of seven members each representing: small business, non-profit public interest organization, general population, labor (two seats), compensation expert, and major corporation executive.
Kolokotronis has been president of business operations for the Sacramento Kings since 2010 and director of the Sacramento Kings Foundation since 2004. Thomas Dalzell, the Chair for the Citizens Compensation Commission, appointed in 2011 to represent labor, has served as the business manager for IBEW Local 1245 since 2006. Nancy Miller, apointed in 2013, holds the "non-profit" seat. She is president and shareholder of Miller & Owen since 1992. Lastly Anthony Barkett, appointed May 2013, holds the "general population" seat, he is the Chief Executive Officer of Trinity Solar and a managing member of Oliveto LLC. The appointment to the commission does not require Senate confirmation and there is no compensation. Members serve for six-year terms.
The commission also approved higher state contributions for health and dental benefits, to the same level as state managers. The panel has given state officials 7.3% in raises over the last two years, restoring part of the 18% pay cut made in 2009, during the recession, when many state services and wages were reduced.
Proposition 112, passed by voters in June 1990, established the Compensation Commission to set the salaries and medical, dental, insurance and other similar benefits of Members of the Legislature and the State's other elected officials. Proposition 1F, passed by voters in May 2009, prevents the Commission from increasing elected officials' salaries during budget deficit years. The Commission is required to meet by June 30 of each year to decide what changes to make, if any, the following December. Actions of the Commission are effective on a December-to-December basis.