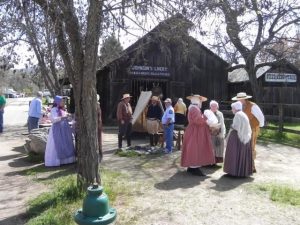 Docent Volunteers gather for Columbia's 163rd Birthday Celebration

View Photos
It is the first day and weekend of May and the Roundup Queen will be crowned this weekend as detailed here. Other Roundup Events this coming week are listed in our event calendar.
It is Columbia's 56th Annual Fireman's Muster from 9am to 4pm at the Columbia Cemetery in Columbia. There will be a small parade and Bucket Brigade details are here.
Also at Columbia, the InFocus Photography Competition & Exhibition is going on now through Sunday.
Another big Mother Lode event is having a fund raiser, the Lumber Jubilee Pancake Fund Raiser The fundraiser is this Saturday, the 66th Annual Tuolumne Lumber Jubilee is held June 25, 2015 through June 28, 2015 at Tuolumne Memorial Park. For an event in Tuolumne this weekend, enjoy a Dog Show at the Memorial Hall.
The 17th Annual Kid's Fishing Clinic, sponsored by the Calaveras County Fish and Game Commission and California's Deptment of Fish and Wildlife, is held this Saturday. The event begins at 9am at Murphys Community Park details are here.
Support the American Cancer Society's Relay For Life in Tuolumne County, the event is held this weekend. The annual 24 hour event will be held at the Sonora Elementary. The event listing is here.
In Calaveras check out a Calaveras Big Trees State Park – Free Seminar or Workshop
at the park in Arnold. There is also a Calaveras Gem & Mineral Society Tailgate Swap & Sale at 10:00 am in Angels Camp.
Other events in Sonora include the Touch a Truck Fundraiser for kids at Standard Park, the Tuolumne County Master Gardeners Open Garden Day at Cassina High School and An Evening To Honor Our Veterans past and Present at the Sonora Moose Lodge.
In two weeks, the Calaveras County Fair and Jumping Frog Jubilee will get underway. Details about the recent kick-off event are here.