Update: Sadie Lane Fire Grows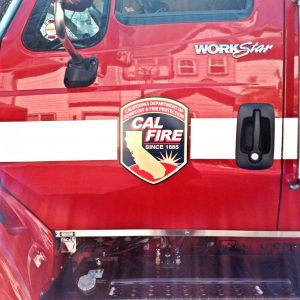 Cal Fire Truck

View Photos
Update 4:10 p.m.:  Cal Fire spokesperson Lisa Williams says the fire has just been called contained at nine acres. The Fire began around 12:15 this afternoon. Williams says what sparked the blaze is under investigation. (See map at the bottom of the page)
Update 3 p.m.:  Cal Fire spokesperson Lisa Williams says crews are getting a handle on the flames of the nine acre Sadie Lane Fire in Mountain Ranch. (See map at the bottom of the page)
Update 2:30 p.m.: Cal Fire has named the blaze the "Sadie Lane Fire"  and it has grown from two acres to nine acres.  Cal Fire spokesperson Lisa Williams says,  "The vegetation type is brush and grass and a dozier has been added to the resources."  Those resources include five engines, two hand crews and water tenders are on the scene. Williams says no structures are threatened.  The fire is located near the 6000 block of Doster Road between Hawver Road and Marantha Lane. (See map below)
Initial report: San Andreas, CA — Firefighters are on the scene of a vegetation fire that broke out on Sadie Lane near Doster Road, which is between San Andreas and Mountain Ranch.
Cal Fire spokesperson Lisa Williams says,"The fire is two acres in size with a slow rate of spread…no structures are threatened."
Williams adds what sparked the fire is under investigation.  We will bring you more information as soon as it comes into the News Center.
Update 1:30 p.m.:  Cal Fire reports there are two engines and one hand crew on scene, but additional resources are heading to the blaze.
Update 2 p.m.: Cal fire reports five engines, two hand crews and water tenders are on the scene.