GOP: Obama Should Approve The Keystone XL Pipeline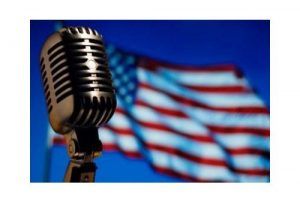 Microphone and US Flag

View Photos
Gov. Mary Fallin of Oklahoma gave this week's GOP address, calling on President Obama to abandon his promise to veto any legislation approving the Keystone XL pipeline.
Fallin was Tuesday's KVML "Newsmaker of the Day". Here are her words:
"Good morning, I'm Mary Fallin, Governor of the great state of Oklahoma.  And today, like most Americans, I'm urging President Obama to approve the Keystone XL pipeline.
With this project, we have the opportunity to support at least 42,000 jobs in our country, and that's according to the president's own State Department.  Not only that, we can secure the safest, most cost-effective way to transport these resources.  And we can continue building our energy future and reducing our dependence on foreign oil.
Keystone has now been through more than six years of scrutiny – far more than any project of its kind – and it's passed every test and cleared every hurdle.  But still, the president just drags his feet.
The good news now is, members of both parties in Congress have come together to pass a bill giving Keystone the green light.
Today I'd like to share with you a story to help illustrate why President Obama should sign it.
You see, here in Oklahoma, we have the part of this pipeline that's already been approved.  It's the Gulf Coast portion that runs from Cushing, Oklahoma south into Texas.
This one portion of the pipeline is on track to generate over $15 million annually in tax revenue for Oklahoma.  That's a big boost for our state, with 85 percent of that money going to our public schools.  If the whole project is approved, the volume of oil flowing through Oklahoma would increase by 75 percent.  That's a steady, reliable source of revenue coming in for the foreseeable future.
The construction of this pipeline has helped fuel our state's economic comeback.  The project had two main construction bases – one in Prague and one in Atoka.  These are small towns, populations of no more than a few thousand people or so.  Having about 1,000 workers based out of these camps was a great source of economic development for those communities.   And at its peak, about 4,000 workers were part of the construction of the Gulf Coast pipeline.  That's some 12 million man-hours of labor.
And even now, after construction, the pipeline continues to bring jobs and opportunities into Oklahoma.   Statewide, since 2010, Oklahoma has seen a 44 percent jump in pipeline transportation and construction jobs.
Remember, this is all from ONE part of ONE pipeline in ONE state.  Just think of what we could achieve if this whole project were allowed to go forward.
Now I know these are a lot of numbers, but behind each one is a story of its own: a worker who now has a job, who now has insurance, who can put food on the table, who can plan and hope for the future.
Out here, that's what Keystone is about.  Not politics, not Republicans and Democrats.  It's about jobs.  It's about energy.  It's about infrastructure.  It's about hope.
President Obama was once about that too.
That's why I'm appealing to him to do the right thing, sign this bill, let us finally build this pipeline.  Let us get our people working.
Thank you for listening."
The "Newsmaker of the Day" is heard every weekday morning on AM 1450 KVML at 6:45, 7:45 and 8:45 AM.