Flood Advisory For Tuolumne And Calaveras Counties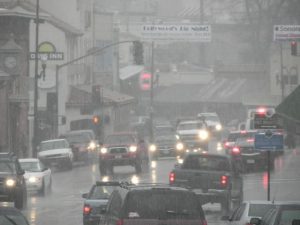 Rain In Sonora

View Photos
A High Wind Warning remains in effect for the the Mother Lode, the central valley and the Sierra Nevada below 6500 feet through 2 PM this afternoon.
Winds of thirty to forty mph with gusts up to sixty mph will continue in both the Mother Lode and the central valley.
In the Sierra Nevada, expect winds of twenty-five to fifty mph with gusts up to eighty mph.
The National Weather Service has also issued an Urban and Small Stream Flood Advisory for Calaveras County and Western Tuolumne County until 9:45 PM tonight.
Periods of moderate to heavy rainfall will be moving eastward into the central valley and the Mother Lode during the afternoon.
Heavy rainfall is expected over the Mother Lode from late afternoon and into the evening as the weather front slows down or stalls over the area.
Additional rainfall amounts of 1 to 3 inches are possible in the warned area.
Excessive runoff from heavy rainfall will cause elevated levels on small creeks and streams and ponding of water in urban areas, highways and streets as well as other poor drainage areas and low lying spots.
A Flood Watch remains in effect in the Sierra Nevada through Friday evening.
Two to three inches of additional rainfall is expected in the Sierra Nevada.
Additionally, a Blizzard Warning is in effect for the Sierra Nevada above 7000 feet through 10 AM Friday. This will continue as a Winter Storm Warning through 4 PM on Friday.
Ten inches to three feet of total snow accumulation is expected.
The period of heaviest snow is expected from Thursday afternoon into Friday morning.
Snow levels are between the 7000 to 8000 foot elevation today before lowering to 4500 through 6000 feet on Friday.