Mother Lode Pre-Thanksgiving Events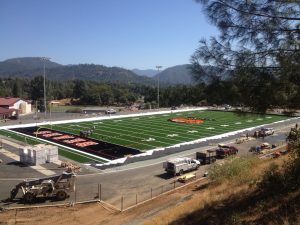 Summerville Stadium field

View Photos
Several events are held the weekend before Thanksgiving here are some of the events listed in our events calendar.
Tonight at the new Thorsted Field, the undefeated Champion Varsity Boys Soccer team will face-off with the also undefeated Summerville Alumni. This is the main fundraiser for the soccer program, gate open at 6:30, the game is at 7 for more details and ticket prices view the event listing here.
Other local sports events include the Sonora High School Football and Volleyball playoffs. Details in the earlier news story here.
On Saturday the 2014 Sierra Film Festival will close with a great film line up, including a premiere of Pete McBride's new short film produced by a local rafting company. This showing takes place at the Dogwood building at Columbia Community College. The movie list is available here.
Enjoy a Dinner/Dance Fundraiser and toy drive to benefit Santa's Express of Calaveras County this Saturday. Horse and carriage rides, photo booth and silent auction throughout the night. Details are in the event listing.
The Spangly to Sophisticated Holiday Fashion Show aims to provide a "fun day out before the relatives move in." Saturday at Noon this event is for the Sonora Cat Rescue, more details are here.
Join The Mother Lode Storytelling Guild for the region's 14th Tellabration! The event is part of an international storytelling celebration taking place in locations around the world on the same day. The event is appropriate for all ages and free with donations to the Guild deeply appreciated. Location and time details here.
You can see all the events on Saturday by clicking on November 22nd or for any day with the calender on the lower left side of myMotherLode.com.