Calaveras Rockslide Update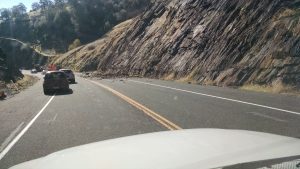 Hwy 49 Rock Slide

View Photos
Reports of a rockslide earlier this morning impacting traffic on Highway 49 near the Stevenot Bridge in Calaveras County was not caused naturally.
Caltrans reports crews are triggering rockslides on Highway 49 near New Melones as part of a maintenance project.
"Caltrans had noted that more rocks than usual were coming off the hillside at this location last winter," explains spokesperson Rick Estrada.  "Crews are dislodging and then collecting the rocks from the roadway….the idea is to reduce the number of rocks that might fall and create potential hazards on the roadway in the coming months."
Estrada calls the project a preventative step.  The roadway is down to one-way traffic until 4 p.m. today.  Motorist can expect 15-20 minute traffic delays.