GOP: Let's Restore The American Dream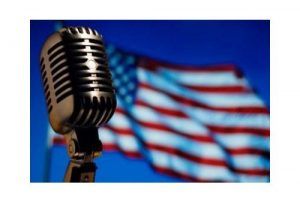 Microphone and US Flag

View Photos
A Congressional candidate from Long Island, New York, Lee Zeldin, delivered the Republican address this week, in which he spoke of the future, and the importance of fixing Washington for the next generation.
Zelden was Tuesday's KVML "Newsmaker of the Day". Here are his words:
"Hello, I'm Lee Zeldin, and I'm the Republican candidate for New York's First Congressional District here on Long Island, a special place where I was born and raised.
Let me start by saying that our hearts go out to all those affected by the Ebola outbreak.  Right now, the president and his administration need to be taking every necessary step to protect the American people.
Today, I just want to share with you the most important reason I'm running for Congress.  There are two of them actually, and they're our beautiful twin daughters, Arianna and Mikayla.  They inspire my wife, Diana, and I every day to do all we can to provide them and their generation with more opportunities than we had.
That's just the American way, but that is not the path we find ourselves on right now.
Our government spends more than it takes in, fails to keep basic promises to our veterans, and squanders opportunity after opportunity to create good-paying jobs.  Instead of courage, we see caution and inaction.
Aren't we tired of the way Washington fails to listen to us?
This November 4th is our chance to send a message that the challenges we face can't wait.  That it's time to turn things back in the right direction.
We can start by focusing on creating good-paying, private sector jobs.  Too often in today's economy, people find themselves taking second, third jobs, and that's still not enough to make ends meet.  We can do better, and help families get ahead, not just get by.
We need to fight for our veterans who fought for us.  We can't rest until we know the VA will be able to provide the first-rate, 21st-century care our men and women in uniform deserve.
We need to repeal and replace ObamaCare with solutions that cost less and guarantee more freedom, certainty and security.
And we have to improve our education system, to put parents in charge of their kids' education, and give every child an opportunity to succeed.
I know we can do this.  It's going to take hard work, tough decisions, and embracing the duty we all share to protect and pass on the blessings on which our country was built.
That's why I proudly served as a U.S. Army paratrooper in the 82nd Airborne Division, why I still serve as a major in the Army Reserves, and why I'm running for Congress now.
Together, we can end the dysfunction, and restore the American Dream for our kids and grandkids. They're what this is all about.
Thank you for listening."
The "Newsmaker of the Day" is heard every weekday morning on AM 1450 KVML at 6:45, 7:45 and 8:45 AM.