Republican Weekly Address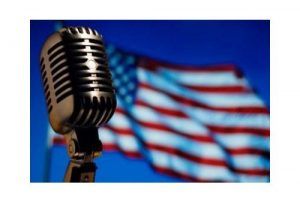 Microphone and US Flag

View Photos
Upstate New York Congressional candidate Elise Stefanik delivered this week's GOP Address, focusing on taxes, debt and health care. Here are his words:
Hi, I'm Elise Stefanik, and I'm running for Congress in New York's 21st District.
I'm proud to say I was born and raised in Upstate New York.  And I grew up in a small business family.  When I was a kid, my parents risked everything they had to start our family's small business.  And more than 20 years later, we've been proud to work with hundreds of small businesses in New York's North Country.
But Washington has made it harder for small businesses like ours to succeed and grow.  President Obama has piled on more taxes, more regulations, more debt for future generations, and higher health care costs – hurting our Main Street economy.
As a matter of fact, because of Obamacare, my family's small business had our coverage cancelled.  Our new plan carried a 30 percent premium increase, higher deductibles, and higher out-of-pocket co-pays.
This is a story that's become all too common, here and all around the country, whether you were promised lower costs or told you'd be able to keep the plan you like.
I decided to run for office because my generation can't just complain about these problems.  We have to help solve them as well.
It starts with working every day on improving the economy and bringing jobs home to Main Street.  That's why I've pledged if elected, I'll work to overhaul our tax code to make it flatter, fairer, and simpler.  Let's clear out all the special interest loopholes and put the focus on promoting job creation and economic growth, especially for our young people.
We also have to work to repeal and replace ObamaCare with commonsense proposals that lower costs, improve healthcare quality, and increase accessibility, especially for rural communities like New York's North Country.
And we have to address energy costs, which make or break our farms, small businesses, and household budgets.  We need a national energy policy that helps create jobs and lowers costs while protecting our environment.  This means expanding energy exploration; utilizing alternative energy sources like solar and wind; developing more nuclear energy; and reining in mandates on energy suppliers and developers.  I believe in an all-of-the-above energy policy that promotes energy independence.
These are common-sense steps we can take to get government out of the way and put the American Dream back within reach for all Americans.
One month from today, all Americans face a clear choice: stick with the status quo of more government, more spending, and higher taxes or choose a new direction of new ideas to unleash job creation and economic growth.
That's what I hope to do if I'm fortunate enough to serve in Congress.  And every day I will fight for a better future for the hardworking families in New York's 21st District.
The "Newsmaker of the Day" is heard every weekday morning on AM 1450 KVML at 6:45, 7:45 and 8:45 AM.