GOP: Federal Govt Takes More Money And Freedom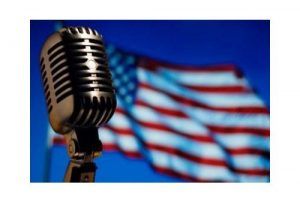 Microphone and US Flag

View Photos
Congressional candidate Andy Tobin, R-Arizona, delivered the weekly Republican Address, speaking strongly about the importance of "putting people first" and ending an "attack from the federal government."
Tobin was Tuesday's KVML "Newsmaker of the Day".
"Hello, I'm Andy Tobin.  I serve as Speaker of the Arizona House, and I'm the Republican candidate for Arizona's First Congressional District.
Before I begin: we have had terrible flooding in our state this week.  At least two Arizonans died.  Our hearts go out to their families, and our thanks go to the first responders.  Their service inspires us always.
I'm running for Congress for a simple reason: our state is under attack from the federal government. Day after day, the powers-that-be in Washington try to bury us in more regulations and more havoc.  This has to stop.  Not just here, but everywhere people are working harder only to have Washington take more of their money and more of their freedom.
How do we restore the balance of power for hardworking taxpayers?
Well, one thing we can do is go after overregulation.  Here in rural Arizona, the EPA's mandates threaten to shut down the Navajo Generating Station, a coal-powered plant that is vital to our state's economy.  These mandates will mean higher water and electricity prices for Arizona residents.  They also threaten the viability of this plant, putting hundreds of jobs in jeopardy.  Instead of perpetrating a war on coal, Washington should be protecting coal, protecting these jobs, and supporting American energy.
Second, we need to repeal ObamaCare.  I run a small business involved in employee benefits, so I've seen firsthand the rate increases, and the way this law is crushing businesses and pushing people into part-time work.  It's also costing our seniors money they don't have and doctors they've relied on for years.  Let's start over and focus on ideas that lower costs and put the patient back in charge.
Third, we need to get ourselves out of all this debt.  It's a drag on our economy and investment, and it's not something we should be passing on to our kids.  Not too long ago, our state was one of many caught in the grip of recession and a budget crisis.  Working together, we turned things around.   Cut government by 25 percent.  Balanced the state's budget.  And passed the largest tax cuts in our state's history, saving taxpayers millions of dollars.  Now we're moving in the right direction, building a better future for our children and their children.
And you know how we got it done?  By finding common ground, making the tough choices, and recognizing that Arizona would only recover if we all recover.
That's why the gridlock in Washington is so disappointing.  You have Republicans making a good-faith effort, bringing real ideas to the table to help our economy, but Senate Democrats won't give them a vote.  They didn't even pass their own bill to help us deal with the crisis at our border.  They're more worried about losing their Senate majority than the concerns of the American people.
I've dedicated my life to serving others.  It was instilled in me as the son of a police officer. To get America back on track, we need to put the people first, be their voice, especially for parts of the country like rural Arizona that have been forgotten by Washington.
Thank you for listening.  May God bless Arizona and the United States of America."
The "Newsmaker of the Day" is heard every weekday morning on AM 1450 KVML at 6:45, 7:45 and 8:45 AM.