Sullivan: Approve Keystone XL Pipeline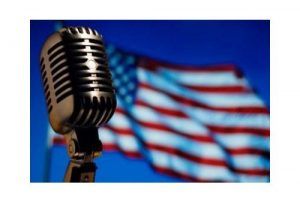 Microphone and US Flag

View Photos
U.S. Senate candidate Dan Sullivan delivered this week's GOP address. He was Tuesday's KVML "Newsmaker of the Day". Here are his words:
Hello, this is Dan Sullivan from the great state of Alaska.
I'm a 20 year Marine, currently serving as a Lieutenant Colonel and commanding officer of 6th ANGLICO, United States Marine Corps Reserve. I've served as Alaska's Attorney General and Natural Resources Commissioner. And just a couple weeks ago, I was honored to be chosen as Alaska's Republican candidate for the U.S. Senate.
Alaska is a beautiful state with incredible opportunities. We have oil, natural gas, hydropower, minerals, fisheries, timber, tourism – and a young, energetic, highly-skilled workforce.
Unfortunately, I worry that my three teenage daughters won't be able to take full advantage of all that our state has to offer. Why? Because rather than being a partner in prosperity, the federal government has become an obstacle to progress.
Federal agencies won't allow Alaskans to build crucial roads and bridges. The EPA and Washington, DC try to dictate how we manage our state-owned lands. The Interior Department locks up huge swaths of oil and gas resources, stifling our economic potential and costing us high-paying jobs.
This problem isn't specific to Alaska. It's actually nationwide, and it's being quarterbacked by President Barack Obama and Senate Majority Leader Harry Reid.
The Obama-Reid agenda has locked up America's natural resources, burdened small businesses throughout the country with an avalanche of regulations and suffocated job growth through a complete disrespect for the rule of law.
What our friends on the other side of the aisle don't understand is that none of this is helpful. We all lose when the federal government stifles responsible resource development – it means fewer jobs, less revenue, higher energy costs and a diminished manufacturing ability to grow our economy.
But the American Dream is resilient. Time and again, Americans have proven themselves up to the challenge of creating new opportunities and handing off a better world to our children. All we need is new leadership in Washington to make it happen once again.
A Republican Senate would approve Keystone XL pipeline jobs, because Canada is our neighbor and ally.
We'll authorize more offshore development, because it's good for coastal states and the rest of the country.
We'll seize the opportunity to expand our energy trade, because that will benefit our nation, and others who need energy – like Ukraine.
And, when it comes to Alaska, instead of watching federal agencies say 'no way,' 'not here' or 'never going to happen,' we'll open up areas like the National Petroleum Reserve and the Arctic Coastal Plain to responsible development and will do so, maintaining the highest standards to protect our environment.
As we do, we'll create new jobs. We'll reduce our debt. We'll improve our energy security and we'll drive the cost of energy down – not up – for families and businesses.
Another important way we can empower Americans, especially here in Alaska, is to reform our burdensome federal regulations in a way that makes sense for today's economy.
Right now we're stuck in the last century and the old system is needlessly stifling us.
Solving problems does not have to mean big government solutions dictated by DC bureaucrats. Republicans like me believe that the key to getting our country back on track is less government intrusion into our lives and more freedom for you.
If we empower Americans to control their own destiny, we can reinvigorate our economy, build a brighter future for our kids and get our country back on track.
I hope you'll join us.
Thanks for listening. May God bless Alaska – and may God bless America.
The "Newsmaker of the Day" is heard every weekday morning on AM 1450 KVML at  6:45, 7:45 and 8:45 AM.