GOP: Democrats Stand In The Way Of Progress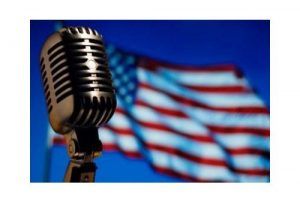 Microphone and US Flag

View Photos
In the weekly GOP address, Reince Priebus, Chairman of the Republican National Committee, questions Obama's priorities.
Priebus was Tuesday's KVML "Newsmaker of the Day". Here are his words:
"Hi. I'm Reince Priebus, Chairman of the Republican National Committee.
Here in my office at the RNC, I keep a couple pictures on my desk. Photos of my two kids, Jack and Grace. It's to remind me why I come to work in the morning. To help elect leaders who will secure a better future for all our kids.
If you have kids, you know what I mean when I say I want them to have every opportunity I had growing up in America–and more. We all want our kids to have it better than we did.
And that's why so many people I talk to are frustrated about what we've seen happening under President Obama's leadership.
For over five years, he's failed to get government spending down to a reasonable level. And I just don't think it's fair for the next generation to have to pay the bills of this generation.
This month, President Obama's been on vacation. He attended his 401st fundraiser. He's now played over 190 rounds of golf as president.
Now, we all deserve some time off.  But you have to wonder: where are his priorities?
We all watch the news. We see what's happening overseas in place likes Iraq and Syria and Ukraine. And we see the tensions at home in Missouri. And we lost a young American journalist at the hands of fanatical terrorists. And yet, President Obama is on vacation.
He did fly back to Washington briefly this past week. But I think many observers got it right when they called it a photo op. He spent about a million in taxpayer dollars to fly back from Martha's Vineyard on Air Force One to take a few pictures. Then it was back to vacationing and the golf course.
Our country deserves better. And Republicans offer a better way.
In the last 18 months the House of Representatives, which is run by Republicans, has passed hundreds of bills to improve the lives of Americans. The sad part is, over 350 of those bills, including 43 jobs bills, are stuck in the Democrat-controlled U.S. Senate.
Harry Reid and his fellow Democrats are standing in the way of progress. And President Obama has other priorities.
Thankfully, we have a chance to change things up in November. By winning just six more seats, we can elect a Republican majority to the U.S. Senate.
And I can promise you: when Republicans lead both houses of Congress our priorities will be clear. Spending less. Making energy more affordable. Improving education for kids. Reforming healthcare to give you flexibility and lower costs. Meeting the daily concerns of middle class Americans.
But, our top priority will be the same reason so many of us go to work each day. Our kids' future. Priority number one.
Thank you for listening. God bless you. And God bless America."
The "Newsmaker of the Day" is heard every weekday morning on AM 1450 KVML at 6:45, 7:45 and 8:45 AM.