GOP: Senate Democrats Should Pass Jobs Bills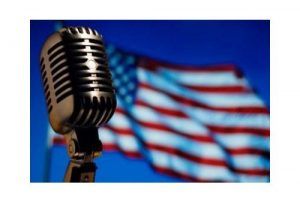 Microphone and US Flag

View Photos
In this week's Republican address, Rep. Doug Collins of Georgia urged the Democratic Senate to act on jobs bills that have been passed in the Republican-held House of Representatives.
Collins was Tuesday's KVML "Newsmaker of the Day". Here are his words:
"Earlier this week, I visited with folks in Blue Ridge, a small community of less than fifteen hundred between the Chattahoochee National Forest, the Cohutta Wilderness Area, and a big, beautiful lake where families often go to camp, kayak, or just catch a few trout.
At the local high school, we had a good, honest conversation about growing the economy, creating more jobs, and expanding opportunities for all Americans.
I listened as workers and parents who are living paycheck to paycheck shared their concerns about the future of their families and also of our country.
Like most Americans, my constituents are frustrated with the status quo.
They wish Washington would stop meddling in things that aren't broken, and start fixing the things that are.
They think there's too much talk, and not enough action on real solutions.
Those I talked to want to know, why can't our leaders just do their jobs?
I know how they feel, because my Republican colleagues in the House and I have made the American people's priorities our priorities.
We've passed bill after bill to help our struggling economy, save taxpayer dollars, lower the cost of gas and groceries, and help every child get a good education.
But Democrats in the Senate have essentially decided to do nothing.
Our bills are piling up on Harry Reid's desk, collecting dust.
Even when it comes to a crisis like the one on our southern border, House Republicans passed a common-sense solution, and Senate Democrats left town without doing the hard work to pass their own.
That's just irresponsible – there's no other word for it.
In recent weeks, Republicans have led efforts to enact job training legislation that helps people get back to work.
We've given veterans stuck in an outdated federal bureaucracy timely access to the care they need.
And we've prevented major highway projects from being shut down.
But there is much more work to be done.
President Obama enjoys complaining about Congress, but the fact is, his own party controls the Senate, and they need to get to work.
Of the bills that have been signed into law, more than 75 percent of them have originated in the House.
What's more, right now, Senate Democrats have failed to take action on more than 340 bills passed by the House.
Many of them have bipartisan support, including most of the 43 jobs bills that are stuck in this do-nothing Senate.
So if they're truly interested in making progress, the president and his party have a lot of catching up to do.
Republicans aren't going to slow down; we're going to keep passing common-sense solutions to help American families, and we're going to keep the pressure on Senate Democrats to do their job.
Thank you so much for listening."
The "Newsmaker of the Day" is heard every weekday morning on AM 1450 KVML at 6:45, 7:45 and 8:45 AM.