Roadside Fire Nearly Extinguished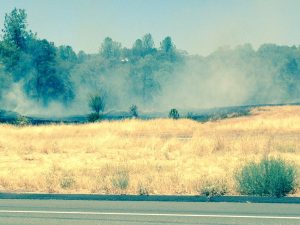 Highway 108 Near Peaceful Oak Road Fire
Sonora, CA — Firefighters have now stopped the forward spread of a roadside spot fire on Highway 108 near Peaceful Oak Road.
CAL Fire reports they have a hose line around the fire, and air resources are starting to be released. There is not an official sizes estimate at this time. Continue to use caution if traveling in the area.
The CHP reports the nearby onramp to the Highway 108 bypass will be closed until around 2:30pm.
Find a short video in the upper left hand box.