GOP Address: How To Improve The Economy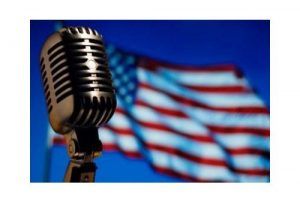 Microphone and US Flag

View Photos
In this week's Republican address, Mike McFadden, a Republican Senate candidate from Minnesota, says he thinks the United States is "experiencing one of the slowest economic recoveries in our nation's history."
McFadden was Tuesday's KVML "Newsmaker of the Day". Here are his words:
"Hi. My name is Mike McFadden and I'm running for the United States Senate from the great state of Minnesota.
To get there, I'm in the midst of an 87-county tour. Today, I hit county number 80 and I'm speaking to you from the MinnWest Technology Campus in Willmar.
We have a wonderful state, and Minnesotans work hard, but no matter where I go, from Winona to Warroad, people tell me the same thing: we are heading in the wrong direction.
America is experiencing one of the slowest economic recoveries in our nation's history. Minnesotans feel like we're falling behind. Wages have been stagnant but the cost of everything from gas to groceries keeps going up.
Here in Minnesota, over half of our workers are underemployed and weekly wages have gone up by just pennies. This is not what an economic recovery should feel like.
Minnesota is the Land of 10,000 Lakes. But when it comes to the challenges working families are facing, all we get from Democrats is 10,000 excuses.
We can do better. I'm running to bring real independent leadership to Washington, to help get America back onto the path of growth and prosperity.
There are many ways we can turn this economy around, but let me touch on two of them today.
The first is regulation.
President Obama and the Senate Democrats are great at creating regulations. But when it comes to jobs? Not so much.
To create jobs and unleash our full economic potential, we need smarter regulation, not overregulation, so that the American free enterprise system can do what it does best – innovate.
Let me give you an example from my state.
We are sitting on one of the largest copper and nickel deposits in the world. There is a company that wants to use advanced technologies to safely mine these metals and bring good jobs back to Minnesota's Iron Range. But seven years and $150 million later, we still don't have an answer because there are seven different regulatory agencies responsible for making this decision – which is crazy.
I believe there's a better way.
Through smarter regulation and a little common sense, we can develop our natural resources in a way that creates jobs and protects the environment. Whether it's the PolyMet Mine in Minnesota, or the Keystone pipeline, there are good-paying jobs waiting to be created if we just use more common sense in regulation.
The second way to get this economy going is education.
To move our economy forward, it is absolutely vital to have a well-educated and highly skilled workforce.
"For the last five years, I've been involved in a fantastic inner-city school in Minneapolis called Cristo Rey. The students come from some tough neighborhoods and very hard backgrounds, and our typical freshman test one to two grade levels behind when they enter our school. Yet for the past two years, we've had a 100% graduation rate and every student being accepted either into college or is serving in the Armed Forces.
When people hear about Cristo Rey's success, they want to know how we do it. And the answer is simple: because we care. We care enough to develop a curriculum that conforms to our own standards – not a one-size-fits-all approach from Washington. And we care enough to direct money into the classroom where it can benefit the students the most.
We are changing the trajectory of these kids' lives; their possibilities are endless. Among them are future doctors, educators and engineers.
President Obama and Senate Democrats have had their chance to turn our economy around, but all we're doing is running in place. We can do better.
This November presents a tremendous opportunity for America to elect new leaders, with the vision to turn our country around, and get us back onto the path of growth and prosperity. Which will allow us to pass on to our children, and those kids from Cristo Rey, a stronger country than the one we were given.
Thank you and God bless America."
The "Newsmaker of the Day" is heard every weekday morning on AM 1450 KVML at 6:45, 7:45 and 8:45 AM.