GOP: Obama's Waging War On The Middle Class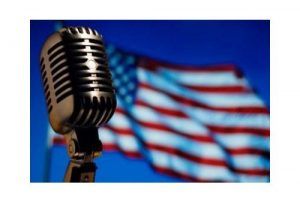 Microphone and US Flag

View Photos
In this week's Republican Address, Montana Congressman Steve Daines discusses America's energy sector and its potential to lower utility costs, increase jobs, and revitalize the economy.
Daines was Tuesday's KVML "Newsmaker of the Day". Here are his words:
"Hello.
I'm Steve Daines and I proudly represent the state of Montana in Congress.
As a fifth-generation Montanan, a sportsman, a husband and father of four, it's an honor to serve the people of Montana in the House of Representatives.
I grew up in Bozeman, Montana, where my parents worked from the ground up to start a home construction business.
And like my great-great-grandma, a Norwegian widow who homesteaded in central Montana, my parents worked tirelessly to achieve the American Dream.
Growing up, I learned the importance of hard work, accountability, personal responsibility—values that shaped who I am today and reflect what I've passed on to my four children.
These principles make up the fabric that formed our nation—but stand in stark contrast with what we see in Washington today.
Americans are losing trust in those they have sent to represent them in Washington.
Washington has become a town that promotes all the wrong behavior and all the wrong people at the expense of hard-working taxpayers.
It is no accident that Washington, D.C. has emerged from the recession better than any other region in the country.
Inaction is rewarded, and political tricks trump finding solutions. Personal gain comes first, and "we the people" come last.
I graduated with a degree in chemical engineering, then spent 28 years in business—balancing budgets and helping create hundreds of good-paying Montana jobs— and like most Americans, I know that Washington's way of doing things doesn't work in the real world.
While thousands of American families are living paycheck to paycheck, President Obama and Harry Reid have run up the nation's credit card and burdened our nation with debt that's gonna last for generations.
And while countless small businesses are being forced to reduce their workforce or even close their doors, President Obama and Harry Reid continue to impose job-killing regulations on the industries that hold the most hope for our economic future.
Let me be clear.
The reckless policies that President Obama and Harry Reid have championed have directly harmed the security and future of those they claim to fight for.
President Obama is waging a war on the middle class, and Harry Reid's Senate is fully complicit and eager to carry out the President's job-killing agenda.
In Montana, we've seen first-hand the potential that our energy sector holds for lowering utility costs for hard-working middle class families, it'll revitalize the economy on our Indian Reservations, and supporting thousands of good-paying union jobs.
Yet President Obama has spearheaded a war on American energy that not only stands in the way of the potential—it works to reverse it.
The Crow Indian Reservation is home to some of the richest coal reserves in Montana – but the Obama administration's war on coal is standing in the way of the Crow people's ability to develop their resources and reap the economic benefits that are so badly needed on the Reservation.
I was recently meeting with Crow Chairman Darrin Old Coyote, and I asked him what his top three priorities were.
And he told me: "Jobs, jobs, and jobs."
And then he continued, and he said: "A war on coal is a war on the Crow people of Montana."
We have an unprecedented opportunity to grow our economy and create good-paying jobs through the responsible development of our nation's natural resources.
But rather than working toward solutions that promote responsible energy production, renew our economy and bring accountability to Washington, the President and the Senate have maintained their roadblock to badly-needed progress and reform.
The House has passed more than 300 bills that the Senate has refused to even take up for a vote.
Well, the American people have had enough.
We need action—not more press conferences and empty rhetoric.
We need solutions—not more backroom deals and political games.
And we need more results – not more excuses, barriers and delays.
We need more jobs, and less government.
We need a Senate that will join the House in putting middle class jobs, affordable energy, and America's future first.
And I know that working together, we can change the Senate.
Together, we can get our country back on track, and we can ensure that the voice of the people is heard in Washington once again.
And with your help, we can ensure that future generations have the opportunity to achieve the same American Dream that our parents and grandparents worked for.
I firmly believe that America's best days are yet to come—and I won't stop working until we get there.
Thank you, and may God Bless America."
The "Newsmaker of the Day" is heard every weekday morning on AM 1450 KVML at 6:45, 7:45 and 8:45 AM.