Polls Look At Carbon Tax, Drought, Governor's Race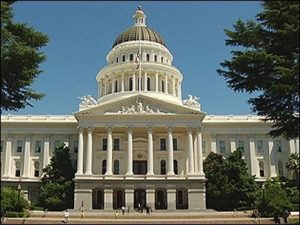 California Statehouse

View Photos
Sacramento, CA — The Public Policy Institute of California has conducted several polls on hot-button issues in the state.
68% of Californians say they support changes implemented through the AB 32 global warming legislation, which was signed eight years ago. Related to this, 76% support the state's cap and trade program, related to carbon emissions. However, only 39% say they will continue to support it if it leads to notably higher gas prices.
35% say the drought and water supply is the most important environmental issue facing the state today. Since the year 2000, every PPIC poll had found that air pollution was the biggest environmental concern. Air pollution came in at 14% this time around.
53% of Californians say they support the Keystone Pipeline project.
54% say they oppose additional hydraulic fracturing.
61% of Californians support a November water bond ballot measure.
75% say they support local water districts calling for conservation measures during the current drought.
52% support Governor Jerry Brown's re-election bid, and 33% favor Republican challenger Neel Kashkari.
President Obama has a 50% state approval rating and Congress is at 22%.