Independence Day Celebrations And Events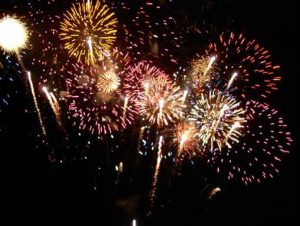 Lake Don Pedro Fireworks

View Photos
There are many events celebrating the Fourth of July in the Mother Lode.
According to the Don Pedro Recreation Agency, their fireworks show has been canceled.
They say "Due to the diminished available surface acreage on the water in the fireworks fall-out zone, there will not be a fireworks show in 2014." The agency reports this is the third consecutive dry year and water levels lower than normal, but Don Pedro Reservoir is open to the public. The boat launch at Fleming Meadows is open and the boat ramp at Moccasin Point will be open through the holiday weekend but the marina is closed. Blue Oaks boat ramp is also closed. Camping at all the areas and other amenities are available.
Columbia's Glorious 4th of July Celebration is on July 4th. Independence Day festivities include a ceremonial flag raising at 11 am, a grand parade at noon, a patriotic concert, food and many old-fashioned contests including a tug-o-war. The event is sponsored by the Columbia Chamber of Commerce, details are here.
The Twain Harte Business Association will host a Fourth of July parade. Activities start at 9am with a water slide and more, the parade starts at 11:30am.  The event listing is here.
Christian Heights Church is hosting a Family 4th of July Celebration. There will be a Laser Light Show, BMX Stunt Show Spectacular, Water-slide & Bounce House. Dinner prices and details are here.
A celebration at Utica Park on the Fourth will start at noon and continue into the time of the Angels Camp weekly farmer's market from 5pm to 8pm. Details are here.
Ironstone Independence day celebration is July 5th. Gates open at 4:30pm, fireworks begin at dark. Ticket prices and details are in our events calendar here.
The Greater Arnold Business Association will be hosting the 33rd Annual Arnold Independence Day Parade on Saturday, July 5th, starting at 10 a.m. on Highway 4 in Arnold.  KVML's "Newsmaker of the Day" has all the details.
July 4th and 5th there will be train rides and live music at Railtown 1897 State Historic Park.  Rides on the Sierra No. 3 "Movie Star Locomotive"  or a vintage diesel locomotive make 45-minute round trips.  All the details are in the event listing here.