GOP Address: Obama Is Out To Kill Coal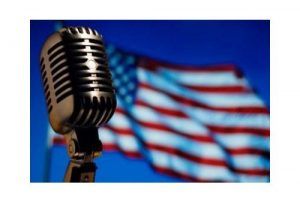 Microphone and US Flag

View Photos
In this week's Republican address, Sen. Mike Enzi, R-Wyo., criticized President Obama's proposed national energy tax.
Enzi was Tuesday's KVML "Newsmaker of the Day". Here are his words:
"Hello, this is Senator Mike Enzi from Wyoming.
"President Obama and those who control the Senate have been doing a lot of polling and focus groups and have come up with a proposal to take money from those they define as rich and give it to a few college graduates within a group who have student loan debt.
"The left is masterful at buying votes with other people's money, but knocking a few dollars off the average monthly college loan payment does not make up for the policies they have enacted that make it harder for businesses to create jobs and Americans to make a living.
"There are better ways to help graduates and other Americans who want a better life. We need to rapidly expand the job market.
"Republicans know Americans deserve better from Washington. Republicans have proposals to help employers create more jobs and help students access a good education. We know when you give Americans new opportunities, they achieve far more than anyone could imagine.
"From what I've seen of the early versions of the Democratic student loan plan, it would not make college more affordable, it would not reduce the amount of money students will have to borrow, or do anything about the lack of jobs grads face in the Obama economy. The proposal would increase the federal debt (it's already $17 trillion) it would increase it by $400 billion more. The only way to claim it wouldn't is to use more phony accounting.
"The proposal would also set a dangerous precedent by making private debt into public debt, not to mention that it would enact a job-destroying tax that the Senate's already rejected.
"Republicans have introduced bills designed to enable more high school students to attend a college of their choice while creating jobs, while eliminating regulations that don't make a difference and forms required just for the sake of curiosity.
"The more involved the federal government becomes in something, the more it seems to cost. Health care is an example.
"In the early days of selling his health care plan, the President said it was going to bring health care prices down. I warned then that we would see massive increases in not only what patients pay, but also what the federal government has to pay.
"Now many people's premiums are up and continuing to climb. The IRS prepares to collect heavy health care taxes. This may be the most expensive free lunch in our nation's history.
"There are better ways to ensure more people have improved, affordable health care. GOP senators have introduced measures that would repair the damage. We would protect take-home pay by restoring the 40-hour work week. We would encourage businesses to hire more people without penalty.
"I want to repeal the 'Unaffordable' Health Care Act and replace it with common-sense, patient-centered reforms that let you keep your doctor, that let you choose your hospital, that reduces health care costs and increases access to affordable, high-quality care that you and your doctor agree on.
"We've introduced plans that would do that. The Administration and Senate majority favor costly government-centered mandates and regulations. They're building a system that, as one health insurance executive puts it, would 'break people away from the choice habit' and 'fixation on open access.'
"America was built on citizens having the freedom to make choices that best fit them as individuals. That's what Republican education, Republican health care, and other proposals do.
"Energy is another key area where we need policy changes.
"The Administration has set out to kill coal and its 800,000 jobs. If it succeeds in death by regulation, we'll all be paying a lot more money for electricity – if we can get it. Our pocketbook will be lighter, but our country will be darker.
"The Administration also slow walks approval of domestic oil and gas production. It's death by delay for the Keystone XL Pipeline. We all want clean air and clean water. We don't want costly regulations that make little or no difference, that are making things less affordable. Republicans want electricity and gas when you need it, at a price you can afford.
"Students, recent graduates and all of us don't have to let ourselves be ruled by executive orders without basis in law, for agency mandates that cost without benefit and policies where only the federal government is smart enough to make your decisions.
"America works best when Americans are making their own choices.
"Americans are inventive. Let's free our students with policies that provide opportunity. Don't handcuff them with 'I'm from the government and I'm here to help.' That kind of help will only hold them back.
"Quit holding Americans, particularly students, hostage to government gifts for which they will ultimately have to pay a high price.
"Thanks for listening and God bless America."
The "Newsmaker of the Day" is heard every weekday morning on AM 1450 KVML at 6:45, 7:45 and 8:45am.