GOP Address: Our Focus Is On Jobs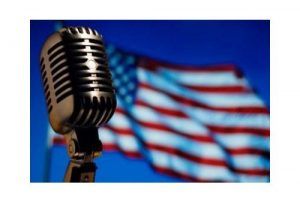 Microphone and US Flag

View Photos
In this week's Republican address, House Transportation & Infrastructure Committee Chairman Bill Shuster discusses a bill that seeks to bring jobs to American workers.
Shuster was Tuesday's KVML "Newsmaker of the Day". Here are his words:
"For Americans trying to get a job and get ahead, Republicans are committed to making things easier any way we can.
We've passed dozens of bills to expand opportunity for middle-class families.
We've pushed Senate Democrats to match our focus on jobs.
And soon, we expect the president to sign one of our ideas into law.
It's the Water Resources Reform and Development Act, an infrastructure bill designed to improve the ports, harbors, and waterways essential to the flow of trade and commerce.
At its core is a foundation for long-term job growth.
Not just jobs in construction, but also jobs that depend on and are created by a modern, efficient transportation system.
You see, without reform, our water infrastructure becomes more obsolete by the day.
That means the cost of doing business in America rises, other countries close the gap, and we become less competitive.
Right now, it can take 10, 12, even 15 years to study a single project – nothing gets going.
Not only that, the costs of these studies keep going up and up.
And to top it all off, traditionally this bill was bloated with earmarks, a spending free-for-all. It is the worst of all worlds.
So Republicans have turned the page on the old ways.  We're setting hard deadlines and cost limits.
We're cutting out the outdated projects, the unnecessary bureaucracy.
And there are absolutely no earmarks.
Taken together, these things mean breaking down barriers to the worthy projects that can be the pride of our economy and our country.
This is progress.
When you entrusted Republicans with the majority in the House, we pledged to do some simple, important things.
#1: focus on jobs, and #2: change the culture to make government more accountable to you.
This is a great example of how we're delivering on both counts.
And with so much more to do, it's an example of what we can accomplish when President Obama and Senate Democrats work with us to address your priorities.
Whatever it takes, we are determined to bring jobs home for America's workers.
Thank you for listening.
And, in honor of Memorial Day, let me simply take this moment to say:
God bless the United States of America and all who have served and fallen in our name."
The "Newsmaker of the Day" is heard every weekday morning on AM 1450 KVML at 6:45, 7:45 and 8:45am.