Vegetation Fire In Calaveras County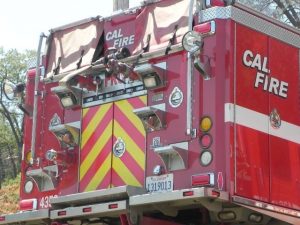 Cal Fire Truck

View Photos
Valley Springs, CA — Firefighters are heading to a vegetation fire in Calaveras County.  The flames broke out on Lime Creek Road near Saint Petersburg Road in Valley Springs. Cal Fire is reporting that power lines are down. However, it is not clear if they are live lines. There is no word on size, rate of spread or whether any homes are being threatened at this time. We will keep you updated as more information comes into the newsroom.
Update 2:27 pm: Cal Fire now reports the forward progress has been stopped, but there is no word on the size of the blaze at this time.  Cal Fire says power lines are down and they are waiting for a PG&E crew to arrive on scene.
Update 2:40 pm: Cal Fire now reports the flames are contained at about a half an acre.  The power lines remain down as PG&E crew is heading to the scene to fix the lines.