Californians Opinions On Election, Taxes and Insurance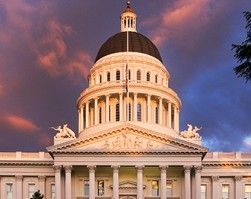 Capitol

View Photos
The June 3rd primary is just two weeks away, and a new poll looks at the race for Governor, and other hot button issues in the state.
The Public Policy Institute poll found that 48% of likely voters plan to support Governor Jerry Brown, 15% like Republican Tim Donnelly and 10% support Republican Neal Kashkari. The top two vote-getters will move onto the November primary election.
Related to California's recent budget surplus, 57% prefer paying down debts and building up the reserve, while 39% would like to see the money go towards restoring some social service programs.
36% of voters say they approve of the job performance of the state legislature. The legislature had 33% approval this past January, and 29% in May of last year. 45% of voters say they approve of their own representatives in the Senate and Assembly.
The poll also found that President Obama's approval rating in the state is 50%. That's up slightly from the record low of 46% in January. California's approval rating of the U.S. Congress is 14%, which is up from the record low of 9% in March. 48% of voters approve of their individual U.S. House member.
48% of Californians say they have a generally favorable opinion of the Covered California insurance program and 42% have an unfavorable one.
The poll also found that Californians are favorable to increasing the taxes on cigarettes and alcohol, but oppose increasing taxes on oil or natural gas extraction, and vehicle licensing fees.
The poll was funded by the James Irvine Foundation.