GOP Address: We Must Take Better Care Of Our Veterans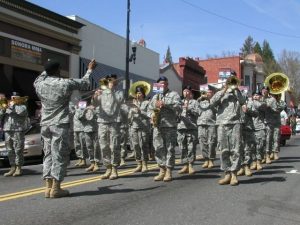 Local Vietnam Veterans

View Photos
In this week's Republican address, Arizona Sen. John McCain calls for greater care for America's veterans, referencing recent allegations of neglect at a number of Veterans Administration medical centers across the country.
McCain was Tuesday's KVML "Newsmaker of the Day". Here are his words:
"Hi, I'm Senator John McCain.
Next weekend, we will observe another Memorial Day. Americans will greet the holiday as the unofficial beginning of summer – and a good day, weather permitting, for picnics and all manner of outdoor recreation. Meanwhile, in cemeteries all over the country, a bugler will sound Taps to remind us of the sacrifices the day is intended to commemorate.
Since our nation's founding, Americans have been fighting in faraway places to make this dangerous world safer for the rest of us.
They have been brave. They've sacrificed and suffered. They bear wounds and mourn losses they will never completely recover from – and we can never fully compensate them for. But we can care for the injuries they suffered on our behalf, and for their physical and emotional recovery from the battles they fought to protect us.
Decent care for our veterans is among the most solemn obligations a nation incurs, and we will be judged by God and history by how well we discharge ours.
That's why I'm so deeply troubled by the recent allegations of gross mismanagement, fraud and neglect at a growing number of Veterans Administration medical centers across the country.
It's been more than a month since allegations that some 40 veterans died while waiting for care at the Phoenix VA were first made public. To date, the Obama Administration has failed to respond in an effective manner. This has created in our veterans' community a crisis of confidence toward the VA – the very agency that was established to care for them.
At a town hall forum I hosted in Phoenix last week, the families of four veterans who passed away in recent months stood before a crowded room to tell their stories.
With tears in their eyes, they described how their loved ones suffered because they were not provided the care they needed and deserved. They recalled countless unanswered phone calls and ignored messages, endless wait times, mountains of bureaucratic red tape while their loved ones suffered debilitating and ultimately fatal conditions.
Hundreds, if not thousands, of veterans have been made to suffer more or even passed away as a result of egregious mismanagement and scheduling delays at the VA. No one should be treated this way in a country as great as ours. But treating those to whom we owe the most so callously – so ungratefully – is unconscionable, and we should all be ashamed.
The allegations of veterans dying while waiting for care, and of 'secret wait-lists' used to conceal how long veterans are actually waiting for appointments, were first made in my home state of Arizona in recent months. Since those initial reports, however, the scandal has gone nationwide, as similar allegations have come to light involving VA clinics and hospitals across America.
Just last week, a VA health coordinator in Wyoming was found to have orchestrated a scheme to hide delays in care, admitting in an internal email, 'it is gaming the system a bit.' In Georgia, three suicides were linked to pervasive mismanagement of the VA hospital's mental health unit.
Altogether, similar reports of lengthy waiting lists and other issues have surfaced recently in at least 10 states.
VA Secretary Shinseki has ordered a nationwide audit to look at the management practices at VA Medical Centers; several employees have been placed on administrative leave; and the VA Office of Inspector General is investigating the Phoenix VA.
I respect the important role of the Inspector General, but my fellow veterans can't wait the many months it may take to issue its report. They need answers, accountability and leadership from this Administration and Congress now.
Clearly, the VA is suffering from a systemic, cultural problem that Congress cannot resolve with piecemeal responses. What's needed is a total refocusing of the VA on its core mission of serving veterans – stretching from its top political leadership all the way through to its career civil servants who, as recent reports suggest, may have been too often motivated by all the wrong incentives and rewards.
Congress must also give VA administrators greater ability to hire and fire those charged with caring for our veterans. Most importantly, we must give veterans greater flexibility in how they get quality care in a timely manner.
Veterans have earned the right to choose where and when they get their medical care. And it is our responsibility to ensure that they are afforded this option.
Our veterans gave us their best. But it's obvious that too often they've gotten the worst from those charged with their care. Our country doesn't depend on the heroism of every citizen. But we must be worthy of the sacrifices that are made on our behalf. How we care for those who risked everything for us is the most important test of a nation's character. Today, we are failing that test. We must do better tomorrow – much better.
For the 9 million American veterans enrolled in the VA today, and for the families whose tragic stories we heard last week in Phoenix, who I know are still grieving their losses, it's time we live up to Abraham Lincoln's injunction, which serves as the VA's motto today, 'to care for him who shall have borne the battle and for his widow, and his orphan.'
So that on some future Memorial Day, as we celebrate the beginning of summer and the comforts of life in a safe and successful country, we need not bow our heads in shame, but only in gratitude for the sacrifice made to keep it so.
Thank you."
The "Newsmaker of the Day" is heard every weekday morning on AM 1450 KVML at 6:45, 7:45 and 8:45am.