GOP Address: Obama Should Sign Bill For Vets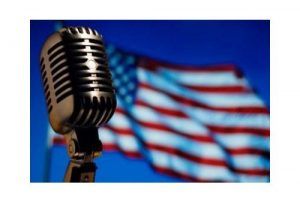 Microphone and US Flag

View Photos
In this week's Republican address, Indiana Rep. Jackie Walorski hopes President Obama will support a bill she says will empower the Secretary of Veterans Affairs to fire senior officials who "aren't up to the job."   Walorski was Tuesday's KVML "Newsmaker of the Day". Here are her words:
"Good morning.  I'm Congresswoman Jackie Walorski.
Today, I'm calling on President Obama – the Commander-in-Chief of our Armed Forces – to support H.R. 4031, the VA Management Accountability Act.
I do so as a member of the House Veterans Affairs Committee, as the representative of more than 50,000 veterans in Indiana's Second District, and as the daughter of an Air Force veteran.
We need this commonsense bill because it will empower the Secretary of Veterans Affairs to fire senior officials who aren't up to the job.
Without this real-world accountability, the VA has become the epitome of bureaucracy run amok.
I hear daily from Hoosier veterans who are forced to wait months on end for their disability claims to be processed.  Unfortunately, this is typical.  Around the country right now, average wait times are nearly 330 days.
Even worse, this backlog has been associated with the deaths of thousands of patients waiting for their paperwork to clear.
On top of that, their grieving loved ones have to deal with miles of red tape, waiting on the compensation they are owed.
These men and women fought for our country – they shouldn't have to fight for their own benefits.
We've traced much of this problem back to a sheer lack of accountability.
For example, an audit of Atlanta's VA hospital – where at least three preventable deaths occurred – found that two top officials were able to retire early and three were reprimanded, while the rest faced 'unspecified actions.'
That's bad enough, but in many cases, we've found that not only have managers received no discipline – they've gotten bonuses too.
These pats on the back and slaps on the wrist only protect bureaucrats, enabling their improper behavior and putting our veterans at risk.
That's where the VA Management Accountability Act comes in.
This bill will give the VA Secretary the authority he needs to fix things.
He'll be able to clear out those who helped make this mess, and bring in people who will clean it up.
Otherwise, all the reform in the world isn't going to help.
No, this bill won't solve the backlog, but it's a big step in the right direction.
As we speak, this bill is under consideration by our committee, where it continues to pick up bipartisan support.
Already, we've received the backing of House Speaker John Boehner and key organizations like the American Legion, Concerned Veterans for America, AMVETS, and Iraq and Afghanistan Veterans of America.
Today we're reaching out to the president – and to all Americans.
Because each of us has a stake in solving this problem.
All the things we say about owing our veterans a debt of gratitude.
All the promises we make to take care of them.  To support them.
The VA exists to turn those words into action.
America is a grateful nation.  We cannot allow anything or anyone to get in the way of that.
The words 'veteran' and 'backlog' should never appear in the same sentence.
Together, let's make that our mission, and let's get to work.
Thank you, God bless those who serve, and God bless the United States of America."
The "Newsmaker of the Day" is heard every weekday morning on AM 1450 KVML at 6:45, 7:45 and 8:45am.