Holiday Events and Activities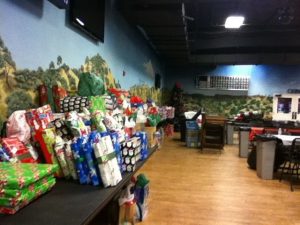 Chicken Ranch Casino Community Christmas Dinner

View Photos
Many festive traditions and activities are celebrated the Mother Lode in December. Santa has been at Courthouse park in downtown Sonora. Today and Saturday he will be available for photos from 3:00pm to 5:30pm. On Sunday he will be there from Noon to 3:30pm. On December 23rd he will be there from 3:00pm to 5:30 pm and on the 24th from Noon to 2:00pm.
Chicken Ranch Casino is having a free Christmas Community dinner from 5-8pm on Friday. All ages are welcome.
A Breakfast With Santa fundraiser will be held Saturday from 9:00am to 11:00am at the Jamestown Community Hall. The Tuolumne County Recreation Department hosts this benefit for The Youth Centers in Jamestown, Tuolumne & Groveland. For the cost and other details view the event listing here.
On Sunday play French Flat Frisbee Golf with New Melones Lake Rangers. The activity is from 10:00am to 1:00pm at French Flat. This is their first-ever Frisbee Golf interpretive program. For details about this and other community Ranger activities view the event here.
There were several special events leading up to Christmas at area churches featured in our events calendar, this Sunday there are two more. The "I Was There" story will be told at the the Christian Life Center on Columbia Road in Sonora. Details are here. 
Christian Heights Church concludes their production "A Timeless Gift" an illustrated Christmas play. Performances are presented at both service times. For the details view the event listing here.
During the noon hour today the Mutz bean feed and Pop Hudson Memorial Christmas Sing are taking place.