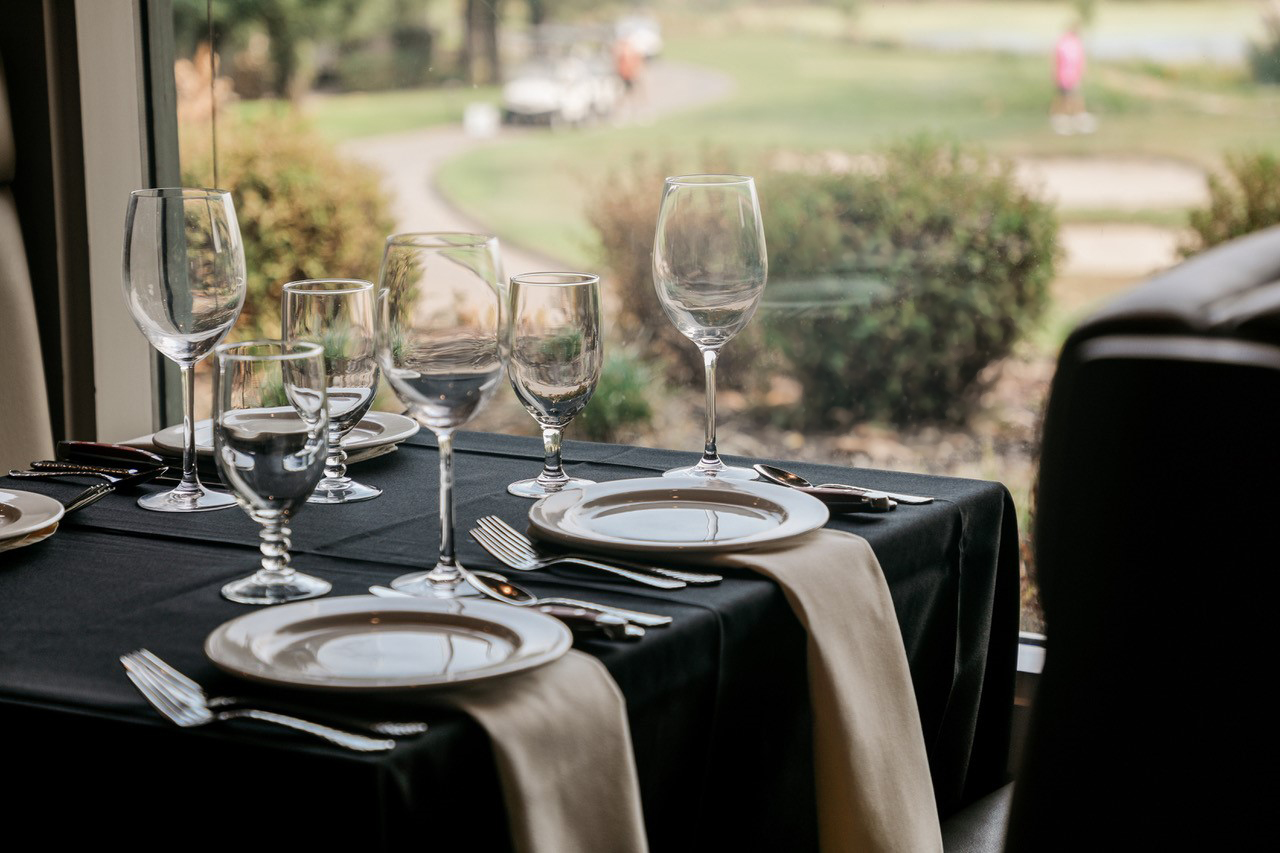 1001 Saddle Creek Drive,
Copperopolis, California 95228
You don't have to be a golfer to experience fine dining at Vine18 at The Golf Club at Copper Valley. This award-winning golf and lakeside venue continues to raise the bar with a new chef, a new menu and a fresh look with newly renovated interiors.
Executive Chef Garcia explains the new menus by saying, "The food will be very simple and straight forward, yet so satisfying and packed with flavor. The flavors are able to stand on their own, but when combined you will get a full, robust, and satisfying flavor." Director of Food and Beverage, Rick Watts, comments on the approach, saying, "Vine18 has a new look, new dishes, new vision. Our goal is to deliver hospitality at every turn and in every experience. You're gonna love it." The new Executive Chef, Joe Garcia, has decades of experience. Joe Garcia began his culinary career in Chicago working part-time in local restaurants and attending culinary school. Joe spent many years working at fine restaurants in San Francisco including Garibaldi's on Presidio and The Elite Café. He was eventually recruited by the Bridge Café in New York City as Executive Chef, bringing new exciting twists to the culinary arts in the Big Apple. After two years, he was offered the opportunity to open a new, fine restaurant in midtown Manhattan. He is also an accomplished butcher, and in his spare time develops blends of spice rubs and sauces. Joe is currently working on his audition video for his shot at the new season of Bravo's Top Chef!
Director of Food and Beverage, Rick Watts, is a veteran of 38 years in the industry. Rick began his work in the industry in 1982. He was Food and Beverage Manager for Indigo Sky Casino in Oklahoma then joined Black Oak Casino in Tuolumne. Shortly after joining Black Oak, he became Executive Director of Food and Beverage. He obtained credentials in wine with Sommelier Certifications and Level II certified Sommelier. Most recently, Rick was the Director of Food and Beverage at Ruby Hill Country Club and the General Manager of Inner Sanctum Cellars Winery.
Vine18 offers both indoor and outdoor ambiance with our patio overlooking the lake at the 18th green and the lush fairways beyond. From intimate dining to special occasions we can accommodate 12 to 32 guests in our Lakeview Room with custom wine pairings available. Or reserve the Grandview Room for your larger celebrations.
Serving fine wines from Calaveras, Napa and beyond, Vine18 features a full bar stocked with many of your favorites. Breakfast and lunch are served 7 days a week and dinner on Thursday, Friday and Saturday. See our listing for current hours.
For the golfer, our 18 hole championship golf course has been consistently ranked in the top 15 courses in California by Golfweek Magazine.
Sunday
8:00 am - 11:00 am, 12:00 pm - 3:00 pm
Wednesday
8:00 am - 11:00 am, 12:00 pm - 3:00 pm
Thursday
8:00 am - 11:00 am, 12:00 pm - 3:00 pm, 5:00 pm - 8:00 pm
Friday
8:00 am - 11:00 am, 12:00 pm - 3:00 pm, 5:00 pm - 8:00 pm
Saturday
8:00 am - 11:00 am, 12:00 pm - 3:00 pm, 5:00 pm - 8:00 pm
Opening Hours Notes
Breakfast
Wednesday – Sunday: 8:00 am – 11:00 am
Lunch
Wednesday – Sunday: 12:00 pm – 3:00 pm
Dinner
Thursday – Saturday: 5:00 – 8:00 pm