Rodeo Announcers

Coy Huffman and Jody Carper – Professional rodeo announcers play a major role in connecting the audience to the action. It takes a unique individual to acquaint the fans with the cowboys, the stock and rodeo itself. Coy Huffman has just the right touch to excite and to get you involved.
Coy has worked all phases of rodeo from behind the chutes to out in front earning a "Gold Card" (lifetime membership) in the Professional Rodeo Cowboys Association.
A few years ago Coy began to pursue his life long vision of being a pro-rodeo announcer. Facing many challenges in a highly competitive field, Coy worked the rodeo labor list as chute boss at Cheyenne, Salinas, Dodge City, Colorado Springs, the Cow Palace and Sonora. He took advantage of opportunities to announce or emcee autograph parties, Exceptional Rodeo, high school rodeos and other events.
The Rodeo Clown – Bert Davis the Coppertown Clown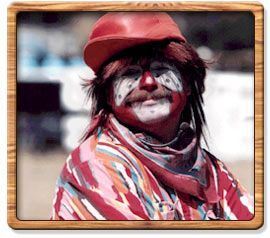 Not much can throw a funnyman who has faced rampageous bulls on a daily basis for the past 30 years. What keeps this extremely courageous and hilariously talented performer going those thousands of miles, year in and year out? Well, it comes from the heart & ldiots; Garth Brooks sings "It's the roar of the Sunday crowd" in Rodeo. But for Bert Davis, the Coppertown Clown, it is the roar of any crowd.
Enjoy Bert's interactive style and his ability to touch every member of the crowd from juniors to seniors and from first time spectators to veteran fans. The Coppertown Clown's antics hold something for everyone. So, relish and witness one of the nation's most talented, experienced funnymen in the business. You will be glad you did!!!