2015 Grand Marshal – Michael Shaffer
Michael Shaffer was born in Grand Island, Nebraska on October 22, 1945, the youngest child of Hershel and Dorothy Shaffer. His sister Carol arrived seven minutes earlier. Yes, a set of twins! Carol passed away in 1986. Mike has a foster brother, Felix, of Yuma, Arizona. Mike says he is blessed to have two daughters, Tricia and Jennifer, and a blended family of four step-children and eight grandchildren. He credits his partner, Chris Walpole, for holding it all together.
Mike was raised in Stockton, CA and graduated from Stagg High School in 1964. He attended San Joaquin Delta College before joining the California National Guard and going into active duty. In 1966, Mike went to work for Pacific Gas & Electric Company where he advanced to lineman and on to Senior Electric Engineering Estimator before completing his 41 year career. He holds a Lifetime Vocational Teaching Credential from the State of California and taught evening classes at Delta College for 18 years. He is also a graduate of the Western College of Auctioneering in Billings, Montana. Mike has been the auctioneer for many fundraisers throughout the county: 4-H, Meals on Wheels, the Watch Program, the Black Hat Foundation, Cub Scout Pack #71, and several senior project fundraisers. He has also been a member of the Sonora Elks Lodge for 29 years.
Mike joined the Tuolumne County Sheriff's Posse in 1988. He was voted in as captain in 1996 and his mom, Dorothy, was Mother of the Year. Over the years, Mike has served in all offices in the Posse and has chaired many committees. He is currently the Treasurer and the Queen Committee Chairman.
The Tuolumne County Sheriff's Posse is proud to honor Mike Shaffer one of the hardest working members who is proud to be a 27 year member of the Tuolumne County Sheriff's Posse. He wishes everyone a wonderful Mother's Day and welcomes one and all to the Mother Lode Round-Up Parade and Rodeo.
Rodeo Announcers

Coy Huffman and Jody Carper – Professional rodeo announcers play a major role in connecting the audience to the action. It takes a unique individual to acquaint the fans with the cowboys, the stock and rodeo itself. Coy Huffman has just the right touch to excite and to get you involved.
Coy has worked all phases of rodeo from behind the chutes to out in front earning a "Gold Card" (lifetime membership) in the Professional Rodeo Cowboys Association.
A few years ago Coy began to pursue his life long vision of being a pro-rodeo announcer. Facing many challenges in a highly competitive field, Coy worked the rodeo labor list as chute boss at Cheyenne, Salinas, Dodge City, Colorado Springs, the Cow Palace and Sonora. He took advantage of opportunities to announce or emcee autograph parties, Exceptional Rodeo, high school rodeos and other events.
The Entertainers: Rockin' Robbie Hodges and the Riata Ranch Cowboy Girls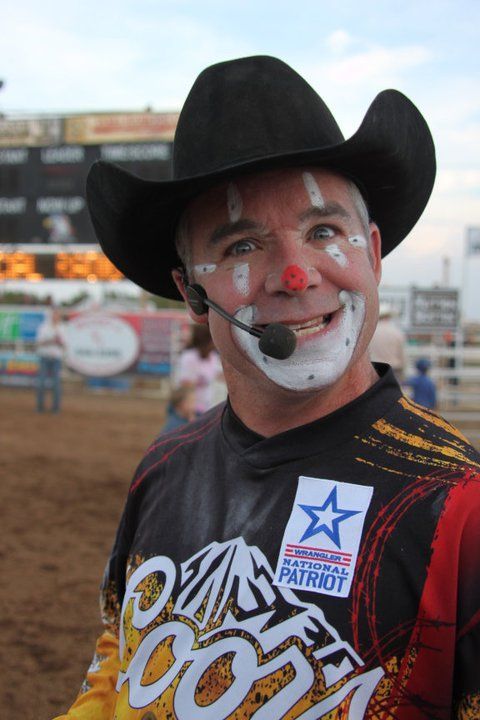 Rockin' Robbie Hodges has established himself as one of the hottest barrelman and funny guy personalities in the world of Professional Rodeo. In only five short years he was selected as barrelman for his first Wrangler National Finals Rodeo in 2010.  His quick wit and off the cuff banter, as well as carefully thought out acts, keep the crowd entertained and looking at him for the en

tire performance. Robbie always promotes positive, non-violent, clean family humor, and has an uncanny knack for instantly bonding with audiences of all ages. He genuinely enjoys being a rodeo clown because he likes to talk to and entertain people, especially children. He eagerly takes on the rodeo performance, attempting to personalize each show by taking the time to talk to and get to know as many families as possible. With his unusual skills as a barrelman he has been acclaimed by bull fighters, rodeo announcers, stock contractors, and cowboys alike, as being the most exciting barrelman in rodeo today.
The Riata Ranch Cowboy Girls are known worldwide for their western performing arts including trick riding and trick roping. To date, they have traveled to 18 countries and across the United States. Each girl is a product of the training provided by the Riata Ranch Horsemanship Clinics. Students chosen for the teams go through an extensive program that focuses on physical skills that promote positive life skills.