2014 Grand Marshal – George Durnall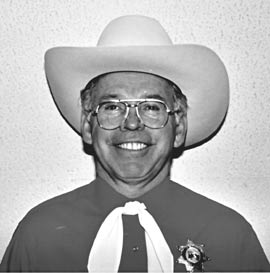 George Durnall was born in 1936 in Omaha, Nebraska to Alfrieda and George Durnall, Sr. George was the youngest of seven children. The family moved to Tuolumne County in 1937, then spent a couple of years in Angels Camp before returning to Tuolumne County. George attended Curtis Creek Elementary School, known then as Standard Elementary, and
Sonora Elementary. George graduated from Sonora High School.
George married Joanne Wivell in 1954. They have three daughter, Bobbi, Lori, and Rabecca, who was Round-up Queen in 1978. Their family has grown to include eight grandchildren, five step great grandchildren, with another great grandson on the way. Their family is spread from California to Nevada, Idaho, and Minnesota. Their great grandson Jordan Selesia is a Lance Corporal with the Marine Military Police stationed in Okinawa, Japan. They lost their grandson, Robert, in an auto accident in 2003.
George was employed driving trucks for Tri Dam and Joe Martin logging but decided to move to Citrus Heights in 1959. The family lived in Citrus Heights for fourteen years where George drove truck for Hard Materials and Robert Powell Products. While living there George was active as a Little League baseball and girls softball coach. He was President of San Juan High School's Football Booster Club and very active in Citrus Heights Elementary School functions.
After returning to Sonora George worked as a serviceman for Durnall and Campora Propane, a position he held for 26 years. In the late 1980's he served as an Asst. Coach for Sonora High's freshman football team.
In 1979 George Durnall joined the Tuolumne County Sheriff's Posse. He served as the Queen Chairman for 10 years, Round-up General Chairman for 6 years, Posse Campout Chair and Co-Chair for 5 years. George also served as the Club's Secretary-treasurer for 6 years, and Building and Grounds Chairman for 5 years. George Durnall was the Captain of the Sheriff's Posse in 1989.
George is semi-retired and owns George Durnall's Pool Services, but spends his winters in Southern California on the Baja border.
The Tuolumne County Sheriff's Posse is please to honor thirty five year member George Durnall as the 2014 Grand Marshal of the Mother Lode Round-up an honor he deserves for his dedication to this great Tuolumne County organization and tradition.
Rodeo Announcers

Coy Huffman and Jody Carper – Professional rodeo announcers play a major role in connecting the audience to the action. It takes a unique individual to acquaint the fans with the cowboys, the stock and rodeo itself. Coy Huffman has just the right touch to excite and to get you involved.
Coy has worked all phases of rodeo from behind the chutes to out in front earning a "Gold Card" (lifetime membership) in the Professional Rodeo Cowboys Association.
A few years ago Coy began to pursue his life long vision of being a pro-rodeo announcer. Facing many challenges in a highly competitive field, Coy worked the rodeo labor list as chute boss at Cheyenne, Salinas, Dodge City, Colorado Springs, the Cow Palace and Sonora. He took advantage of opportunities to announce or emcee autograph parties, Exceptional Rodeo, high school rodeos and other events.
The Wild Child Troy Lerwill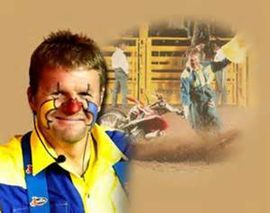 Started his bullfighting career in 1994. but he found himself more often as "the man in the can" making people laugh as the barrel man. During this time, he tried to use his experiences as a professional motocross racer to build up funny motorcycle acts for the rodeo world.
He told himself, that somehow it had to be possible to jump a Dodge pick up truck and a Bloomer trailer with his dirt bike.
In 1998 "the Wild Child" was born and since then he has had the privilege of performing one of the most spectacular acts in professional rodeo. Late in 1999 he was lucky enough to have met Cotton Rosser, a stock contractor from Marysville California, known as the King of rodeo. As he teamed up with Cotton and his Flying U Rodeo Company, he was invited to perform at some of the biggest rodeos in north America and Canada during the 2000 season. Such as the Calgary Stampede, the Red Bluff Round up and the California State Fair, just to name a few.
Since those early days as 'The Wild Child' he has performed in front of more than 1 Million spectators, on national and international TV, and last but certainly not least; the Wrangler National Finals Rodeo in Las Vegas, Nevada.