2013 Grand Marshal – Patricia Brooks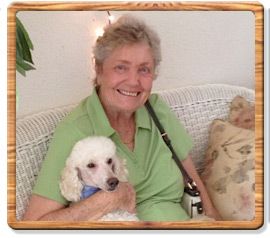 Patricia's family was one of the founding families of Sonora. Patty's Great Great Grandfather, George McQuade Sr. built the Sonora Jail. Her grandfather Robert Lee Price was the first native-born Sheriff in Tuolumne County in 1896. Because a Sheriff at that time had to live in the jail with his family, Patty's father, Louis Price was born in the jail. Louis was a past Captain for the Tuolumne County Sheriff's Posse in 1951 and one of the original members of the Sheriff's Posse.
Patty was born to Louis and Melba Price in 1929 in Sonora. She attended Sonora Elementary and Sonora High School graduating in 1947. Following high school, Patty went on to UC Berkeley, graduating with a Bachelor's degree in Physical Education. In 1951, Patty married Lt. William Mailloux. A plane accident in 1958 caused the end of Lt. Mailloux's life leaving Patty with two children, Price Mailloux and Deniece Mailloux.
Patty moved to Sonora with her two children and then to Modesto. In 1962, Patty met cattleman Leonard Brooks and married him in Arizona. Leonard was born and raised in Tuolumne. Coincidentally, Patty and Leonard shared a dance during their high school years. In 1965, Patty and Leonard welcomed a son together, Lee Brooks. At this time, Leonard and Patty were living in Bakersfield. Louis Price asked Patty and Leonard to return to the family ranch in 1967 to take over the ranching business.
This ranch has been in the family for over one hundred years. Robert Lee Price and his brother Gabe used the gold they discovered in the Alaskan gold rush to purchase the Price Ranch, now also called the Brooks Ranch. The brothers also owned property in the mountains call Hull's Meadows. Hull's Meadows was used for summer pasture for the cattle. Patty, at a very young age accompanied the men and cattle on the 3-day cattle drive from the Price Ranch to Hull's Meadows. While growing up, Patty lived in Sonora during week and spent the weekends on the Price Ranch. She grew up ranching.
Patty and Leonard took over the ranch in 1967. In the mid seventies, they had over 4,000 cow calf pairs and 135 broodmares. Even, by today's standards, that was a sizable operation.
Patty and Leonard purchased a horse named Plumb Dry. In 1984, Plumb Dry became the NRCHA Snaffle Bit Futurity Champion. "Plumb" sired over 500 foals including Lee's cutting horse Plumb's Sensation with earnings of $80,000 plus. In 2007, Patty and Leonard purchased Tapgun, an own son of Playgun and out of Tap OLena. Tapgun has sired some very nice foals including Tapgun Double. Tapgun Double and Lee became NCHA Futurity Finalists in 2010.
Patty and Leonard lived most of their life together (51 years) on the ranch that Patty grew up on. Patty lost Leonard in December of 2011. Patty continues to live on the ranch to this day. An early member of Mountain Spring Golf Club, she has enjoyed playing golf for many years with Leonard and still enjoys playing every Tuesday. In addition to her three children, Patty also has two grandsons William and Hunter.
Rodeo Announcers

Coy Huffman – Professional rodeo announcers play a major role in connecting the audience to the action. It takes a unique individual to acquaint the fans with the cowboys, the stock and rodeo itself. Coy Huffman has just the right touch to excite and to get you involved.
Coy has worked all phases of rodeo from behind the chutes to out in front earning a "Gold Card" (lifetime membership) in the Professional Rodeo Cowboys Association.
A few years ago Coy began to pursue his life long vision of being a pro-rodeo announcer. Facing many challenges in a highly competitive field, Coy worked the rodeo labor list as chute boss at Cheyenne, Salinas, Dodge City, Colorado Springs, the Cow Palace and Sonora. He took advantage of opportunities to announce or emcee autograph parties, Exceptional Rodeo, high school rodeos and other events.
Coy Huffman and his wife Donna have their headquarters in Tucson, Arizona where they manage their rodeo business and ministry. Donna is a gifted writer, office administrator, driver and trusted counselor to rodeo wives. One of Coy's favorite sayings is, "Today is the best day of my entire life!" You are going to have a good friend by your side making every effort to help you have a great day at the rodeo. The Mother Lode Round-Up is happy to bring you the voice of Coy Huffman.
Percheron Thunder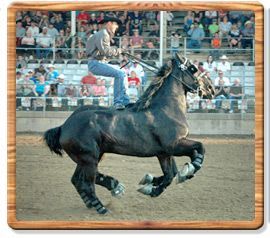 Jason Goodman began Roman Riding six horses at the World Percheron Congress in 2006 at Lexington, Virginia. He has performed his act of Roman Riding six black Percheron draft horses at the Wrangler National Finals Rodeo from 2006 thru 2010.
Besides the National Finals Rodeo, Jason and the Percherons perform at other prestigious rodeos such as the Calgary Stampede, Cheyenne Frontier Days, San Antonio Livestock Show and Rodeo, Reno Rodeo and the Black Hills Stock Show and Rodeo.
What does Jason hope to demonstrate through the horses' performances? His answer, in short: the inherent athleticism of heavy horses and the historical significance of draft animals.
A lot of people have this perception of a draft horse as being a lumbering animal. They don't know how fast and athletic these animals can be. Besides that, a lot of people have never seen how these horses can work together.
Jason has been recognized as a top five specialty act by the PRCA three times. He is the only driver of draft horses to ever perform at the Wrangler National Finals Rodeo.
Jason and his wife Rose make their home in Ft. Collins, CO.
2013 Rodeo Clown – Frankie Smith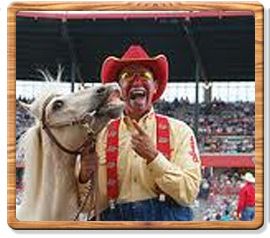 Frankie "Punkintown" Smith started his journey in the Rodeo business 15 years ago. Punkintown has been a comedian all his life. Wherever there was a crowd Punkintown was sure to be smack in the middle of it telling tall tales and funny stories. He combines clean hometown humor with stories that the young and old can relate to. This has made him a favorite as a conference and motivational speaker and of course at rodeos nationwide. His various talents make him more than a clown; he is a rodeo entertainer. "Laughter does good like medicine", says Punkintown "and I want everyone to get a good dose" The Tuolumne County Sheriff's Posse welcome Rodeo clown, World Champion clogger and barrel man extraordinaire Frankie "Punkintown" Smith to the 56th Annual Mother Lode Round-up.